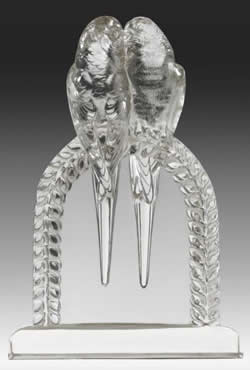 Lalique Sales Results for Rene Lalique Glass at Sothebys London Auction on October 27th represented another in a great season of Lalique Auctions results for the works of the great Rene Lalique. The three high quality R Lalique Auction offerings made a total with buyer's premium of £246,850 or about $415,000 in U.S. dollars at today's exchange rates, against total pre-sale estimates of £125,000 to £190,000.
First lot to sell was the Motif Decoratif Deux Perruches. A large, over 50 cm display piece, it sold for £46,850 all-in against a wide but cautious pre-sale estimate of £15,000 to £25,000. The catalogue raisonne notes that this creation was intended to be part of a fountain that was never constructed. The appeal of this great motif is not just its classic Rene Lalique Perruches design, but also that it has an appeal as a decoratif object of great scope and presence to a wide audience far larger than just R Lalique collectors.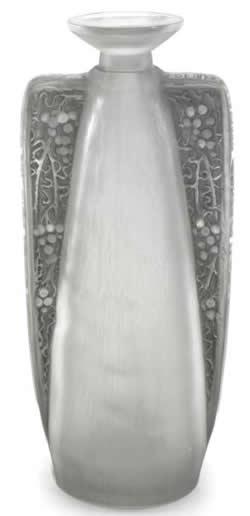 Next was the great decanter Oreilles Gravees (oreilles literally means "ears") which sold all-in for £12,500 against an accurate pre-sale estimate of £10,000 to £15,000. There is a famous photo in the catalogue raisonne showing two of these early Rene Lalique Decanters, one at each end of a mantel. This example was reported to be characterized by extremely heavy thick glass, almost folded over inside the vase. A great insight into early Rene Lalique glassmaking.
The final R Lalique item was the vase Deux Cigales, thought to be unique, and formerly owned by Lalique Perfume authors Glen and Mary Lou Utt. We wrote about this great Lalique Vase when the Sothebys sale was first announced. The pre-sale estimate was £100,000 to £150,000, which was exceeded by the final all-in price of £187,500, or over $300,000 U.S. A great Lalique auction result.
In addition to the great results, several readers of RLalique.com reported that their experience at Sothebys in viewing and handling the three items was extremely satisfactory, with knowledgeable senior staff and specialists in attendance to answer questions and provide information, including a great willingness to accommodate serious potential bidders at times outside the scheduled previews. And of course Sothebys heard from runner-up and high bidders alike, what auction houses around the world are hearing when they sell the works of the great Rene Lalique: "I saw it at RLalique.com!"
We've posted these results on the Rene Lalique Vase Deux Cigales page in the R Lalique Auctions Past section of RLalique.com.
All Articles on These Topics: R Lalique Decanters and Rene Lalique Decanters, R Lalique Rene Lalique Auctions News and Results, R Lalique Vases and Rene Lalique Vases