Rene Lalique at Auction: Unique and Amazing Items are coming up at auction around the world in the next few weeks. There are enough really high-end lots appearing, that you might overlook some of the run of the mill great and rare (as opposed to unique and amazing) pieces. We thought we'd do a brief wrap-up of a few of the highlights and bright spots, all of which (and more) can be found in the Rene Lalique Auctions Worldwide Section here at the Worldwide Gathering Place!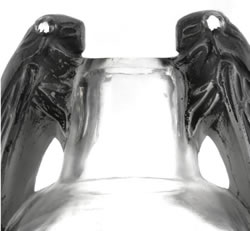 On October 27th, at Sotheby's London, it's hard to get excited about the rare Oreilles Gravees Decanter or the Motif Decoratif Deux Perruches, both of which are standout lots in their own right, because of the great Deux Cigales Vase on offer. Thought to be unique (especially if you are the owner or the auction house), this 32 centimeter vase is likely the same one formerly owned by Glen and Mary Lou Utt. They even found a place in their seminal work Lalique Perfume Bottles to show a photo of the vase!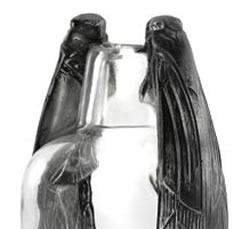 And in case you didn't notice the obvious, have you figured out yet where the design for the outfit for Darth Vader in the Star Wars movies came from? Heck talkies* weren't even developed until the early 1920's, and here, around 1912, the great Lalique already had the main costume design for a series of outer space high tech flicks that wouldn't come along for more than half a century after that. Lalique was a true visionary that understood the future in ways scholars and scientists are just beginning to realize (and see Rene Lalique: Inventor of the Satellite Dish)! Maybe the fact of his costume design prowess is buried somewhere in the credits at the end of all the Star Wars movies?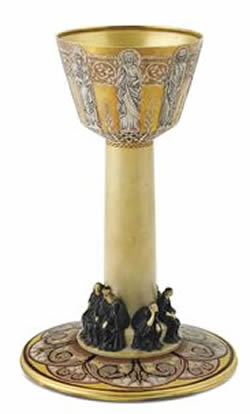 Anyway, if you're serious about Rene Lalique vases, or if you just worship the work of the great Lalique, then this vase is nearly a religious experience. You might say Amazing Vase instead of Amazing Grace. Which brings us to Christie's in New York on October 21st.
At Christies, amongst a few pieces of Lalique's jewelry (trinkets really :), is the incredible religious motif "Art Nouveau Ivory, Gold And Enamel Chalice"! This chalice was exhibited both at the Musée des Art Décoratifs in the big retrospective exhibition in 1991-1992, and also in the fabulous US exhibition The Jewels of Lalique which was held in three locations in 1998, including the Cooper-Hewitt in New York, and the Smithsonian in Washington D.C. The chalice (as described by Christies) features white robed Apostles and seated robed worshipers. A jewel of a chalice to put it mildly. Not the top money lot in the sale by far, but an amazing example of the work of Lalique. And yes, there are also the 5 lots of Lalique's jewelry, with estimates ranging from a low of $15,000, up to the $500,000 range. Great stuff. See more Rene Lalique Religious pieces, or more Rene Lalique Jewellery sales.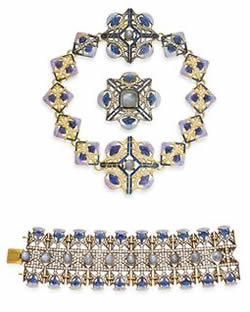 The foregoing items might cause you to overlook some more typical rare and good looking pieces that we also thought to bring to your attention. In Florida on October 21st, what looks like a fantastic nearly white opalescent Thais statue is coming up at a local Florida auction house. Also on the 21st in East Sussex in the UK at Gorringes, the Veilleuse Brule-Parfums Perfume Burner Roses and the wood and glass box Chrysanthemes. In France on the 26th of October, the Perruches Bowl in mint green opalescent glass! And not big money, but as cool as anything R Lalique; at Christies London on October 20th, the pair of Libellule Knife rests, one of Lalique's most creative tableware designs, and nearly impossible to find in good condition (check these and anything else out for yourself of course :).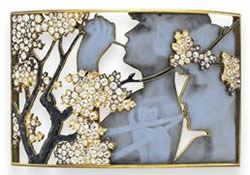 And a few decorative arts auctions with good numbers of Rene Lalique auction items and several outstanding pieces: In Germany at Quittenbaum on the 19th of this month there are 30 scattered lots, many appearing to be of good quality, such as the Coral Rouge Perfume Bottle (with original box) for Forvil. In Bordeaux France on the 15th, a great selection of rare perfume bottles, and at Woolley and Wallis in the UK on the 14th, the vases Pensees with black enamel, and Papillons amongst others.
And to think we have not even reached the major December decorative arts sales. As of this writing, we have 56 auctions containing hundreds of R Lalique items from all over the globe listed in the Rene Lalique Auctions Section. Yes both literally and figuratively our cup doth runneth over!**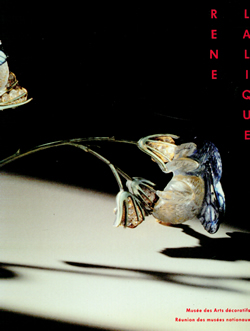 A short note that the Rene Lalique Catalogue Books for both exhibitions mentioned above can be found in the R Lalique Books and Library Section here at RLalique.com. The Utt's book Rene Lalique Perfume Bottles is also available in the Library. All three books are quite extensive and contain both scholarly analysis and historical information, along with tons of photos of wonderful Rene Lalique items.
* Talkies are movies with synchronized sound. The first feature length movie that was a true talkie was a classic: The Jazz Singer in 1927!
** "…… my cup runneth over" is from Psalms 23:5, The King James Version of the Bible.
All Articles on These Topics: R Lalique Rene Lalique Auctions News and Results, R Lalique Vases and Rene Lalique Vases, Rene Lalique Bowls and R Lalique Bowls, Rene Lalique Jewelry and R Lalique Jewelry, Rene Lalique Statues Figurines: R Lalique Statues