Rene Lalique Auction Results for Christies South Kensington's Semi-Annual Lalique Sale were very strong! Lalique auction items exceeded estimates and once again marked another in a string of very strong auction sales for the works of the great Rene Lalique.
The Lalique sale totaled ₤450,012 or approximately $750,000 U.S. including buyer's premiums. Note that all prices mentioned in this article include the buyer's premium, and all dollar conversions are approximate.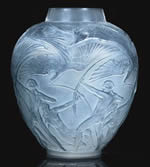 Our man in the room reported that bidding was fast and furious on most lots, with the highly estimated pieces attracting the most attention from a trio of different phone bidders. Trade and collectors in the room competed heavily on the mid and low estimated items, but found the phone bidding competition, which ran many of the most expensive items past their high estimates, to be too much to compete with as prices soared. When all was said and done, many participants left with tired arms and no purchases!
Here is a summary of the 17 R Lalique auction lots that made $10,000 or more: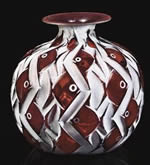 The first lot to go over $10,000 was Lot 6, the large Sirene Opalescent Bowl. It sold for ₤7,500 ($12,500) against a pre-sale estimate of ₤3,500 to ₤4,500. The vase Salmonides was the next RLalique item to go over 10K. Selling as Lot 17, it made ₤32,450 or about $54,500 against a pre-sale estimate of ₤15,000 to ₤20,000. This would be the second Opalescent Salmonides in as many years to make over $50,000 at South Kensington. A fitting price redux for a striking high relief vase model. It was also the high selling RLalique lot in the sale.
The vase Archers in clear and frosted glass, surprised the crowd as Lot 33, making ₤7,250 or about $12,000 against a pre-sale estimate of ₤3,000 to ₤5,000. It was quickly followed by Lot 34, the Rene Lalique Vase Dryades, which made ₤6,875 or approximately $11,500, exceeding the pre-sale estimate of ₤3,000 to ₤5,000. For "three in a row" over the $10,000 figure, Lot 35, a frosted Bacchantes Vase matched the Archers at ₤7,250 ($12,000).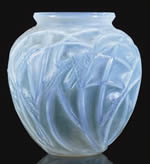 Two Penthievres were offered as Lots 46 and 47; one amber glass and the other gray glass. They made ₤17,500 ($29,500) and ₤13,750 ($23,000) respectively.
The Rene Lalique Vase Sauterelles, the Grasshopper Vase in Opalescent Glass, always a popular saleroom model when it appears in good order, sold for ₤9,375 ($16,000) against a conservative estimate of ₤4,000 to ₤5,000. A solid result for a classic Rene Lalique Vase design.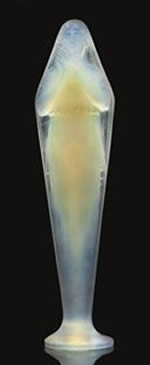 Lot 68, the frosted Escargot Vase made ₤6,000 or almost exactly $10,000. The rare Myosotis Vase (#10-918) sold for ₤17,500 ($29,500) as Lot 72, and the Lalique Lamp Paons, Lot 93, sold for ₤28,750, or about $48,000, marking the third highest Lalique sales price.
Lot 101 was the rare Lalique Statue Voilee Mains Jointes in Opalescent Glass (#828). It sold for ₤16,250 ($27,000) against a very low estimate of ₤2,000 to ₤3,000, followed quickly in succession by the frosted Lot 102 Suzanne Statue at ₤6,000 ($10,000) and the Dragonfly Lalique Car Mascot Libellule (#1145) which made ₤10,625 ($18,000) as Lot 103.
Two other notable results preceded the last lot; a Milan Vase in green glass, Lot 112, which made ₤10,625 ($18,000) and a cased yellow Sauge Vase, Lot 115, which sold for ₤10,000 ($17,000).
The last item in the sale was also the 2nd highest R Lalique seller, edging out the Paons Lamp for the runner-up price. It was the R Lalique Vase Languedoc in green glass, which made an all in round number of ₤30,000, or just over $50,000.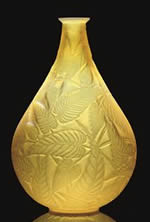 If our counting by fingers is correct :), the sale featured a total of 120 Lots, of which only 11 failed to sell. All the passed lots were on the low end of the sale estimates, the highest estimate for any of the passed items being ₤2,500 to ₤3,000, for a take up rate of near 92%. A great sales percentage combined with very strong prices!
The knowledgeable and experienced staff at Christies South Ken did a great job by all reports in selecting and presenting the sale, which could not help but have contributed to the outstanding results. Many times, high take-up rates indicate low estimated goods, but this was not generally the case for this auction. Highly competitive collector bidding for the majority of the expensive lots, and solid trade and local participation throughout, combined to push both the sales percentage and the sales totals to highly successful levels.
Overall, another very bright spot in the increasingly strong performance of the works of Lalique at Auction!
All Articles on These Topics: R Lalique Rene Lalique Auctions News and Results, R Lalique Vases and Rene Lalique Vases, Rene Lalique Lighting: R Lalique Lighting Fixtures, Rene Lalique Statues Figurines: R Lalique Statues