Rene Lalique Box Rambouillet At Auction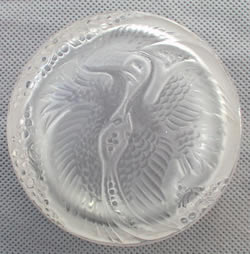 A nice looking Rambouillet covered box popped up online late yesterday at auction. This circa 1924 Lalique box features a Lalique design of two herons on the cover. Both the box top and bottom sport molded R. Lalique signatures. It's model No. 60 in the R.Lalique Catalogue Raisonne appearing on page 233 of the 2004 Edition.
The seller states the box is "damage free" and there are a dozen photos in the listing for your detailed inspection. The starting price is $199 and there is no reserve. And more good news: in the U.S. it's only $7.50 to ship from the Escondido California seller. The seller added information to the listing that they will accept bids and ship overseas except for mainland China. See the listing for details.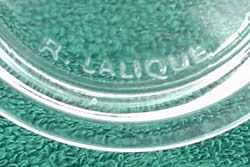 Seems like a good Lalique auction opportunity on a fresh to market Rene Lalique box in apparently good condition. The auction goes to January 20th. Here is a link to a saved/cached image version of the original 370320212283 listing online. You may have to use the zoom function of your browser (or whatever program opens images for you) to get the cached image to expand in the window if it does not appear full size. After clicking on the link to the item, a new window will open with the cached image in it. On a Mac, just click on the image and see if that expands it. If not, press the apple key and click on the cached image in your browser window. On a PC, hold down the alt key while clicking on the cached image.
You can see this box in the Rene Lalique Auction Section on RLalique.com, and you can see other News and Blog box articles at this link for Rene Lalique Boxes.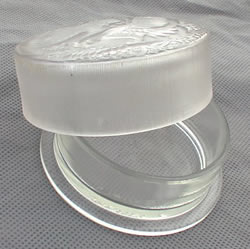 Finally, if you are looking for the out-of-print and hard to find 2004 Catalogue Raisonne, check the modern Rene Lalique Books category of the Lalique Books and Library Section at RLalique.com where you'll find the 2004 Catalogue Raisonne in stock as well as nearly 1000 other titles throughout the Library related to the great Rene Lalique.
All Articles on These Topics: R Lalique and Rene Lalique on Ebay, R Lalique Rene Lalique Auctions News and Results, Rene Lalique Boxes and R Lalique Covered Boxes