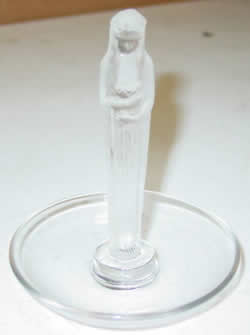 Rene Lalique created a wonderful fountain for the 1925 Paris Exposition Des Arts Décoratifs, the Art Deco Exposition. And full size Source De La Fontaine Lalique statues of the designs that were incorporated into that fountain sell for many thousands of dollars. In creating his great fountain, Les Sources De France, Rene Lalique was following in the footsteps of the tradition in Paris of the great French fountain builders dating back to the middle ages when fountains were first constructed to provide drinking water to the people of Paris!
Lalique knew he had conceived a great design, not just for the fountain in its entirety, but also in the style and motif of the large glass statues which were the fountain elements. As a result, he also made a miniature statuette model in the style of the fountain statues set in his classic round cendrier with centerpiece. In this case, the centerpiece is the Statuette De La Fontaine.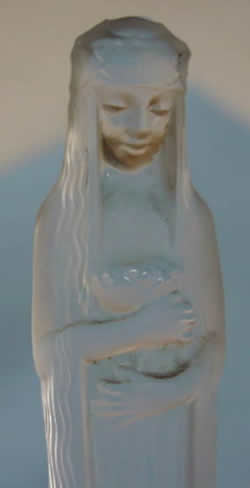 Today, this style cendrier in all its forms is commonly called a ring dish by sellers either because they don't know, or because "ashtray" is not usually the best selling point.
A nice looking example of the Rene Lalique Cendrier Statuette De La Fontaine has appeared at auction, in apparently great condition with a starting price of just $99 and no reserve. The seller states there is no damage.
Here is a link to a saved/cached image version of the original 130357207907 listing online. You may have to use the zoom function of your browser (or whatever program opens images for you) to get the cached image to expand in the window if it does not appear full size. After clicking on the link to the item, a new window will open with the cached image in it. On a Mac, just click on the image and see if that expands it. If not, press the apple key and click on the cached image in your browser window. On a PC, hold down the alt key while clicking on the cached image.
This ashtray is listed in the Lalique Auctions Section at RLalique.com.
And you can learn more about Rene Lalique's contributions to the 1925 Paris Expo and the international acclaim he achieved by his accomplishments there, in the Lalique Books and Library Section! Most of the Lalique biography books available there cover the subject in some detail.
The Statuette De La Fontaine Cendrier: A clean design, a no-reserve auction, and a relatively inexpensive memento of the great Lalique Art Deco Fountain.
All Articles on These Topics: R Lalique and Rene Lalique on Ebay, R Lalique Exhibitions and Rene Lalique Exhibitions, R Lalique Rene Lalique Auctions News and Results, Rene Lalique Ashtrays and R Lalique Ashtrays, Rene Lalique Biography, Rene Lalique History and R Lalique History