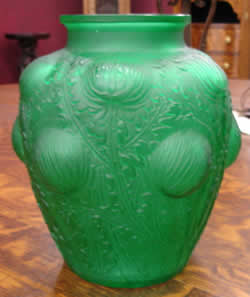 Rene Lalique Vases have been listed at auctions online that appear to be good opportunities for R Lalique collectors. We thought we'd steer you to a few of the most prominent of these good looking Lalique auction offerings, which of course you should fully investigate on your own. In that regard, you may want to review the Rene Lalique Buying Guide online at RLalique.com. And as always, you can see all of these vases in the Lalique Auctions section of the website.
One seller has put up a few nice looking Lalique vases: A Grenade vase in Amber Glass, a Domremy Vase in Green Glass, and a Rampillon Vase in Opalescent. All three started out a few days ago at $0.99 no reserve, and have a couple of days to go, expiring on January 20th. The Des Moines Iowa seller has good photos showing the vases in detail, along with whatever wear and tear has occurred over time.
Here are links to a saved/cached image version of the original listings online. You may have to use the zoom function of your browser (or whatever program opens images for you) to get the cached image to expand in the window if it does not appear full size. After clicking on the link to the item, a new window will open with the cached image in it. On a Mac, just click on the image and see if that expands it. If not, press the apple key and click on the cached image in your browser window. On a PC, hold down the alt key while clicking on the cached image.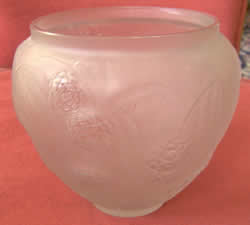 The Green Domremy Vase is Ebay Item No. 180457081735
The Amber Grenade Vase is Ebay Item No. 180457079508
The Opalescent Rampillon Vase is Ebay Item No. 180457074457
Another nice looking opportunity is the Rene Lalique Vase Nefliers which appeared online, with a $24.88 starting price and no reserve. This circa 1923 vase is in San Francisco and the auction for it ends on January 26th. Again, several photos showing all the details and good description.
The Nefliers is Ebay Item No. 170433356813
UPDATED April 5, 2010 to change item links to cached versions.
All Articles on These Topics: R Lalique and Rene Lalique on Ebay, R Lalique Rene Lalique Auctions News and Results, R Lalique Vases and Rene Lalique Vases