Rene Lalique created a "traumhafter hummer", which in German means "fantastic lobster", and rarely do these hummers come up for sale. Not quite as big as the traumhafter Hummers that wheel thru the streets around World Headquarters, and surely not as noisy, this particular lobster had some minor damages but was basically intact. Considering the rarity, the chipping would have likely not been any impediment to a dozen different collectors putting in a bid if they had the chance.
But it was not to be as on July 1st, two nice paperweights appeared on Ebay from the same German seller, both with Buy-It-Now prices of €650, or around $825. Needless to say, the Lobster (Lalique called it a Langoustine which is Crayfish but which also refers to a Spiny or Rock Lobster*) was a bit more of a opportunity than the Bull, Taureau Model No. 1194, which the German seller rightfully calls a "Stier". There's likely a story about the Ebay cruiser coming upon the Lobster auction with the low Buy-It-Now and muttering "that ain't no bull", but time and inclination do not permit us to digress that far afield. Nonetheless, it was reported by one of our alert readers (with regrets for not being the buyer) that over 10 people viewed the Lobster auction before someone clicked on the Buy-It-Now button. Here is a link to a saved/cached image version of the original 150462246093 lobster listing online where you can judge for yourself.****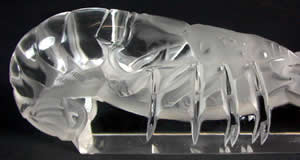 Most collectors of Rene Lalique glass will go a lifetime without ever seeing one of these Lobsters in person. And similarly, the vast majority of collectors (the ones that didn't spring for a Cat Res) will not even see a photo of one, except of course at RLalique.com. We'd observe it's quite a rare bird**, this Lobster is, except that observation wouldn't seem on its face to make a lot of sense (though it really does).
Apparently there is something to checking out new Ebay listings several times a day, as many active collectors and dealers have a habit of doing, because you never know when the rare bird, or the under-priced Buy-It-Now piece will appear.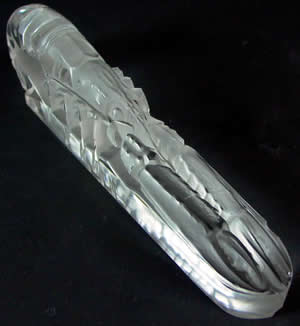 Rumor has it that this rare AND cool Lalique Lobster flew (there goes the bird thing again, let's say crawled?) to the UK where it will live out its life at ease, and will not be cooked.
Here's our auction page for this great Lalique Paperweight (whatever you call it), and of course, you can access this and all other auctions we've ever listed, in the Past Lalique Auctions section at RLalique.com.
And to all you Ebay addicts that check the listings a dozen times a day, we say Happy Hunting (or … er… hmm …. Happy Fishing?, or maybe Happy Crustating??)!
September 11, 2010 Update: Switched Item Link To Cached Image Version
* A "rare bird" is an exceptional or unique person or thing. It became somewhat commonplace as a phrase in the mid to late 1800's. It's a direct translation of the Latin phrase "rara avis" which itself was in use from around 1600 and is sometimes still used in certain circles to this day, circles we read about, but don't run in:)
** Crayfish and Spiny Lobsters are a bit different to be having one word to describe both of them but what they heck, they are related, though Crayfish live in freshwater and Spiny Lobsters in saltwater. And if any American (or anyone else) is wondering what's the difference between a Crayfish and a Crawfish, the answer is none, except the spelling and pronunciation (though knowledgeable jingoists insist Crawfish came first!). Of course they aren't actually fish at all, they're crustaceans! Whatever you think, keep in mind that all this information comes from a non-seafood eating writer, so if any Cajun Crawfish lovers (love to eat, not lovers in the sense like loving your kids or your dog or your girlfriend — let's say they "love them to death") …. if any Cajun Crawfish lovers from Louisiana beg to differ about the no-difference thing, no offense will be taken.
****You may have to use the zoom function of your browser (or whatever program opens images for you) to get the cached image to expand in the window if it does not appear full size. After clicking on the link to the item, a new window will open with the cached image in it. On a Mac, just click on the image and see if that expands it. If not, press the apple key and click on the cached image in your browser window. On a PC, hold down the alt key while clicking on the cached image.
All Articles on These Topics: R Lalique and Rene Lalique on Ebay, R Lalique Rene Lalique Auctions News and Results, Rene Lalique Paperweights - Lalique Paperweights