Rene Lalique works continued with strong pricing at the June 16th Sale of Design from 1860 held in Bonham's New Bond Street salerooms.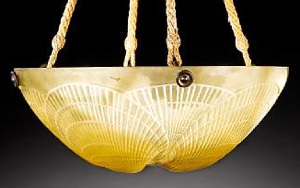 Lalique was represented by 47 lots in the auction comprised mainly of a solid mid-range group of offerings. The Lalique achieved a take-up rate of over 80% owing to the decent quality of most of the lots as well as the realistic estimates.
While Rene Lalique Vases represented over 60% of the sale with 29 items, the two high sellers were found elsewhere. Top seller, going off as Lot 367 was the "Rocky" statute, the Source De La Fontaine Statue Adriane (from the 1st Rocky Movie: "Yo Adriane!"), which made an all-in £12,600 (all prices in this article include the 20% buyers premium) against an estimate of £9,000 to £12,000.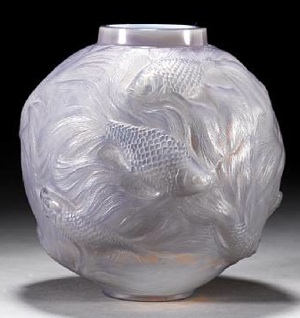 Runner-up was the elegant amber glass light fixture Lausanne at £6,960 selling as Lot 349. Another light fixture also did quite well, the somewhat common Coquilles hanging fixture in an uncommon amber glass making £3,360 as Lot 350.
Tied for third in price were two classic Lalique Vase models, the opalescent glass Ceylon Vase, and the Formose Vase in a rare cased opalescent and agate coloring. They sold back to back as Lots 334 and 335, both making £4,800.
Rounding out the top five sale prices were a Suzanne Statue (with serious issues) at £3,600 and a Marisa Vase in Gray Glass at £3,480.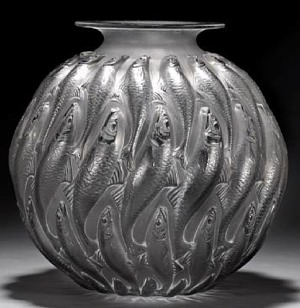 Departmental Director Mark Oliver* and his staff did a great job of assembling a solid set of mid-market items which got good interest from both trade and private bidders. Overall, the Rene Lalique pieces made almost exactly £77,500, with the 38 sold lots averaging over £2000, or roughly over $3000 at today's exchange rates. The sale marked another in a long line of successful public auctions this year for the works of the great Rene Lalique.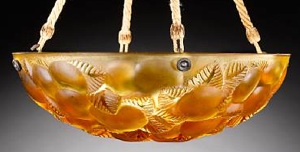 All auction resources at RLalique.com can be accessed from the Lalique Auctions section of the biography of Rene Lalique, where you will find links to past and future auction info, links to news and blog reports and much more. And don't forget, when considering auction (or private) purchases, RLalique.com can help you achieve your collecting goals while minimizing the chance of regrets, through the Lalique Consulting Services offered to buyers and sellers of R. Lalique items.
*Mark Oliver can be reached at (mark.oliver@bonhams.com +44 (0) 207 468 8233).
All Articles on These Topics: R Lalique Rene Lalique Auctions News and Results, R Lalique Vases and Rene Lalique Vases, Rene Lalique Lighting: R Lalique Lighting Fixtures, Rene Lalique Statues Figurines: R Lalique Statues