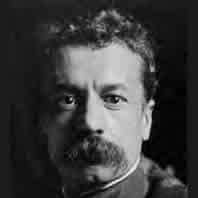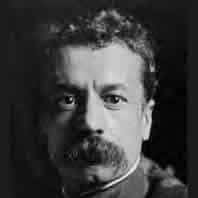 New information coming out of France today reveals that Rene Lalique had a twin brother! It's unbelievable, check it out here in a saved/cached image version of the original listing online***. The news is already rocking the art world as biographers scramble to update their books, college professors rush to update their art history course material, and major museums hurry to add this new information to their displays. The whole story of Art Nouveau to Art Deco is being re-written as art historians descend on the little Village of Ay, the birthplace of the Lalique twins, gathering any scraps of information they can find about this startling news.
It always seemed strange that one Lalique could do so much in just one lifetime. The whole jewelry thing, then the glass, all the exhibitions, etc. etc. Didn't it seem like he had to be in two places at once? And check out the photos. Notice the differences? Yet still is a very strong family resemblance.
Now that we know there was more than one of these guys, it all makes total sense. Who knew?
If you want to learn more about Rene Lalique and the Lalique family, check out the Lalique Bio at RLalique.com.
***You may have to use the zoom function of your browser (or whatever program opens images for you) to get the cached image to expand in the window if it does not appear full size. After clicking on the link to the item, a new window will open with the cached image in it. On a Mac, just click on the image and see if that expands it. If not, press the apple key and click on the cached image in your browser window. On a PC, hold down the alt key while clicking on the cached image.
All Articles on These Topics: Rene Lalique Biography, Rene Lalique History and R Lalique History