Rene Lalique glass made another strong showing at Sotheby's London on May 19th in their sale of "Fine 20th Century Design …"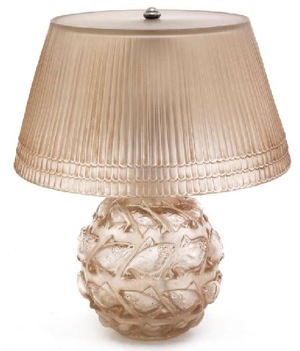 Sotheby's put together a strong group of rare and hard to find items that brought consistently good prices. There were a total of 8 Lalique glass items offered, and every lot exceeded its estimate, sometimes spectacularly.
The most interesting item was Lot 77, described as "A Rare and Early Anemones Coffret with an estimate of £15,000 to £20,000. This 22 centimeter long box has not been previously documented in the Catalogue Raisonne, though it is pictured in the book by Victor Arwas "Art Nouveau to Art Deco, The Art of Glass", which is a 1990's slimmed down version of his seminal work of similar title. But Sotheby's included a catalogue note that they had talked with Felix Marcilhac and that the box would be included in the next Catalogue Raisonne edition. This information surely gave confidence to at least a couple of bidders, which pushed the price of the box just over the high estimate, ending at £26,250 all-in.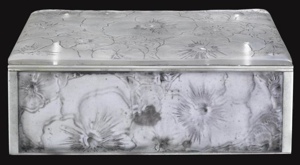 The high seller for the great Lalique was Lot 78, the Camaret table lamp. Estimated at an apparently strong £10,000 to £15,000, the lamp made an all-in total of £61,250, which is surely by far a record price for this model. Interesting was the signature on the bottom of the vase turned lamp of the number 1010, which is the Model No. for the vase. This lamp model has also appeared previously with the correct Model No. 2167 signed on the base of the "vase". Likely not an issue, but of interest.
The results for the 8 lots totaled £245,625 including the buyers premium, or an average price of nearly £31,000 per lot. These results more than doubled the total high estimates of £116,500, or an average of approximately £14,500 per lot.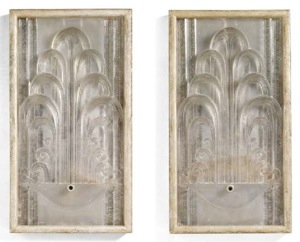 These great results are yet another in an increasingly long line of very firm pricing for rarer and hard to find works of Rene Lalique demonstrated not just by the Christies Lalique Sale which followed these offerings by a week in London, but reaching back to the year end 2009 sales such as the $48,000 price achieved for the Lalique Amber Serpent Vase at the Heritage Sale in New York. These results also comport with a significant amount of private sales activity we have seen at RLalique.com and elsewhere. It appears that the demand for the more sought after items continues to increase while the supply remains thin. Especially for rare and attractive items (such as cire perdue, unique jewelry, the coffret referenced above), attractive architectural items, quality early vases, and colored vases, there is not much on offer to meet the enthusiastic demand of a growing number of international buyers.
Complete results of this sale are reported in the Lalique Auctions Past Section of RLalique.com on the Sotheby's Lalique Auction Results Page for this auction. They are also listed at the end of this article. Additional auction information and links to everything on RLalique.com about Lalique Auctions (upcoming, results, catalogues, articles etc.) can be found in the Lalique Auctions Section of the RLalique.com biography of Rene Lalique.
Lot 74 'FEUILLES DE VIGNE': AN ICE BUCKET EST: £4,000 – £6,000 £8,125
LOT 76 'MADRID': A CHANDELIER EST: £12,000 – £18,000 £39,650
LOT 77 A RARE AND EARLY 'ANÉMONES' COFFRET EST: £15,000 – £20,000 £26,250
LOT 78 'CAMARET (QUATRE RANGÉES DE POISSONS)': A TABLE LAMP EST: £10,000 – £15,000 £61,250
LOT 79 'OISEAU DE FEU': AN ILLUMINATING GLASS PANEL EST: £20,000 – £30,000 £46,850
LOT 82 'GRAND DEPÔT': A PAIR OF TABLE LAMPS EST: £7,000 – £10,000 £18,125
LOT 83 'PROVENCE': A LARGE PLAFONNIER EST: £1,500 – £2,500 £8,125
LOT 85 'JET D'EAU': A PAIR OF WALL APPLIQUES EST: £10,000 – £15,000 £37,250
All Articles on These Topics: R Lalique Rene Lalique Auctions News and Results, Rene Lalique Boxes and R Lalique Covered Boxes, Rene Lalique Lighting: R Lalique Lighting Fixtures