EBay is a great marketplace for the works of Rene Lalique. Cool and rare objects appear out of the hinterlands and offer opportunities for collectors they would never have seen before. And just the sheer volume of daily trading of R. Lalique items creates liquidity in the market and contributes to the overall stability of the worldwide collecting field. It's a great place to sell items with low transaction costs, and a great place to buy pieces as well.
But like all things, the story is usually not entirely one sided, and as regular visitors to RLalique.com are aware, many items are listed on Ebay under the R. Lalique banner, that are not always exactly what they seem.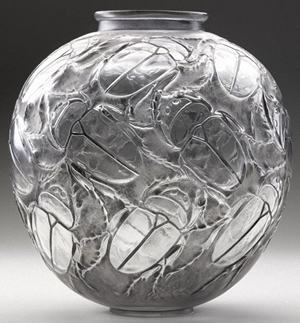 The RLalique Police Page always has a "good" selection of various problematic Ebay auctions listed for anyone that wants to take the time to investigate before bidding on something. And we can't leave this topic without mentioning of course, that we also do offer affordable Lalique Consulting for any purchase, not just on Ebay but for any auction item (or an entire auction) or private sale worldwide.
One Ebay item in particular was brought to our attention by several alert readers in recent days and it has graced the top of the RLalique Police listings since it first appeared online. The auction was purportedly for the Rene Lalique Vase Gros Scarabees: The Lalique Beetle Vase! The auction ended today, and while we were looking at the Ebay Item Page in feigned disbelief, the refrain from the old Eagles standard kept running thru our minds:
There's gonna be a heartache tonight,
A heartache tonight, I know.
There's gonna be a heartache tonight, I know.
Lord, I know.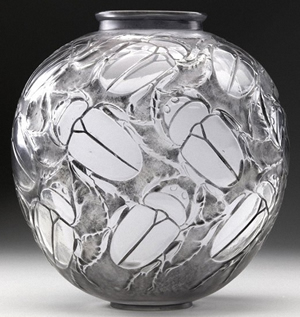 What makes this listing so "great", is the sheer laziness of the Ebay seller combined with the obvious warning signs. Here is a link to a saved/cached image version of the original 190426530971 listing online***, the "Grosses Scarabees Vase". You can't make these names up, they just appear! How did this become the "Grosses"? Simple, the seller copied that information directly from a previous online auction listing along with the exact same three photos in that previous listing!
The original seller of this vase last year, an auction house that regularly sells R. Lalique, made a mistake in their heading when they brought the vase to auction in June of 2009 and called it the "Grosses Scarabees Vase". The current Ebay lister just copied out the info, correct, mistaken, no matter. See the original listing for yourself here: Grosses Vase.
And the three photos? Well, they are actually just one photo that was then given different effects (lighter, darker, highlights) to make it appear to be three different photos.
Rago reports that with buyers premium the vase sold last year for $8400. Then it appears on Ebay a year later, with an $800 starting price and no reserve! And the lucky winner gets it for only $2000! Oh, and FREE shipping too! That's a really big expense for the seller that he's throwing in :). How great is this?
Well, we already know how this story is going to end:
There's gonna be a heartache tonight,
A heartache tonight, I know.
There's gonna be a heartache tonight, I know.
Lord, I know.
***You may have to use the zoom function of your browser (or whatever program opens images for you) to get the cached image to expand in the window if it does not appear full size. After clicking on the link to the item, a new window will open with the cached image in it. On a Mac, just click on the image and see if that expands it. If not, press the apple key and click on the cached image in your browser window. On a PC, hold down the alt key while clicking on the cached image.
All Articles on These Topics: R Lalique and Rene Lalique Fakes-Copies-Frauds, R Lalique and Rene Lalique on Ebay, R Lalique Vases and Rene Lalique Vases, Suspicious RLalique-R Lalique-Rene Lalique Auctions