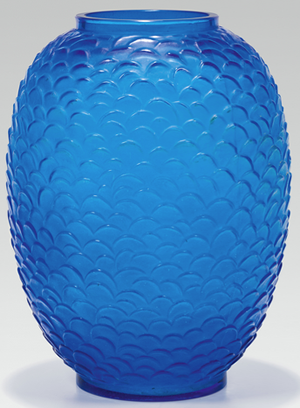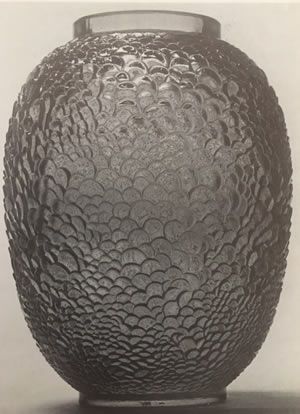 Another fake Ecailles Vase has appeared, this time in Vienna at the auction house Im Kinsky.
The blue vase pictured to the left is being offered as Lot No. 627 in the Im Kinsky July 6th, 2021 auction and it carries the Est: €2000 – €4000.
Here is a link to see the listing on Invaluable for that Fake Ecailles Vase.
Humorously in Im Kinsky's lot description for the fake, they point to Page 51 in the 1977 Christopher Vane Percy book The Glass Of Lalique as a reference for their fake vase. We show you the Percy vase on the right.
Of course Percy has an authentic Ecailles in his book as you can see here. So there is no way the design on it matches the fake at Im Kinsky.
Just below we have also included a photo of the "Source Of The Problem Vase". The pictured vase is a model by an unknown maker. Someone got their hands on one* of those models and removed the top rim and part of the neck and put a forged signature on the underside to create the fake Ecailles Vase above. Obviously the original designer/maker of the "Source Of The Problem Vase" was not trying to make a copy or deceive anyone. It's the later alterations that create the problem. And then of course, once the fake vase shows up on Im Kinsky's doorstep, they inexplicably offer it as René Lalique Vase "Ecailles" after at a minimum having seen the Percy photo.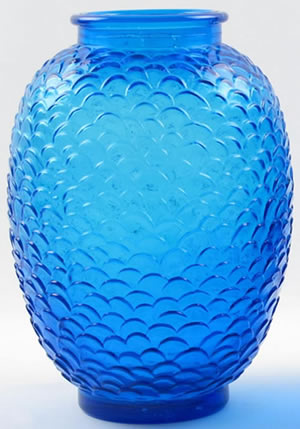 When we saw the fake being offered we sent Im Kinsky a detailed email on June 21st to their office@imkinsky.com email address with an explanation about the vase, directing them to the various reference places and evidence on the website.
Their website has the office@imkinsky.com email address as the contact for the 2 people pictured under the heading "CEO and Equity Partners". We figured we'd go right to the top!
Following is the text of that email.
Note: We converted the three information links in the email for purposes of this article to clickable links for the convenience of our readers, and we corrected typos:

Hello. In regard to Lot 627 July 6th – René Lalique Vase "Ecailles", the vase in your photo (attached to this reply) is a fake. It's not R. Lalique and it does not match the reference you have given in your lot description for the photo in the Percy book. Any signature on (the) vase in Lot 627 for R. Lalique is a forgery.
We commend our article on this subject to you:
Ecailles Vase Copies On The Loose
And we recommend you refer to the model page on the website for the Ecailles Vase to see many legitimate examples of this vase and see what authentic Ecailles Vases look like:

Ecailles Vases
You can also see the following page that has several of the same fakes as yours in different colors:
If you have any doubts after reviewing the article and the other pages, we strongly recommend you consult a local expert with knowledge of R. Lalique that you are familiar with.
We will look forward to hearing from you, and if you have any questions, we would be happy to answer them if we can.
Best Regards,
Greg
Your description:
Description: René Lalique Vase "Ecailles" blue opalglass, satin-coated; carved signature on the bottom: "R. Lalique France N: 1080" h. 25.3 cm Christopher Vane Percy, René Lalique. Das Glas, Würzburg 1981, p. 51
—
Greg Zimmerman
RLalique.com
Free R. Lalique Authentications For Auction Houses
Free Worldwide R. Lalique Auction Listings For Auction Houses
END OF EMAIL
Not having heard back from the auction house after a few days, on June 24th we forwarded the same email to a person listed on their website as an Expert for Art Nouveau & Design, and to another person listed on their website as an Expert Assistant for Art Nouveau & Design. That area of Expertise just seemed to be the closest to R. Lalique on the list of all the many experts and areas of expertise they advertise they have at Im Kinsky. And we wanted to try to make sure the email got into the right hands.
However as of June 29th, 2021, a full week from our first email, we have not heard back from anyone at Im Kinsky and the vase remains on-offer in their auction catalogues with the false claim of René Lalique Vase "Ecailles" for the auction that is now only a week away. As a result we decided to go ahead and publish this article so that interested parties and anyone doing research in the future may be aware that the vase in Lot 627 on July 6th, 2021 at Im Kimsky is in fact NOT a René Lalique Vase "Ecailles". It is an unrelated vase that was purposefully altered by a person or persons unknown who also added a phony signature to the vase. That phony signature includes the René Lalique & Cie model number for a real Ecailles Vase. The addition of that forged model number eliminates any doubt that the alterations were all done to facilitate the false and ridiculous claim (Grandma would say "outlandish" claim) that the vase is an authentic R. Lalique Ecailles Vase.
You may have heard the expression: "You can write the word dog on the side of a cat, but that won't make the cat bark". Hopefully all the various relevant experts at Im Kinsky (whoever they may be) will realize there is no barking going on here. But if they do hear the barking, and if they see their blue fake as identical to the Percy vase, someone might want to look into group discount rates at local Vienna audiologists and optometrists to schedule ear and eye checks.
As usual, we emphasize that what the seller or auction house knows or doesn't know, did or didn't do, thought or didn't think, and all that kind of stuff, is not really important to you as a buyer when building your collection. The only thing is for you as a collector to be sufficiently knowledgeable and careful to avoid nightmare items such as this one and get the right stuff.
UPDATE July 8, 2021: Im Kinsky scandalously went ahead and sold the fake vase at their July 6th, 2021 sale. It made a hammer of €5000. See our succinct Im Kinsky Sold The Fake Ecailles Report detailing their disappointing action. END OF UPDATE
And also as usual, if anyone out there in R. Lalique Land or anywhere else thinks we have anything wrong in this story, please let us know by posting a comment here. We will promptly and cheerfully make any necessary corrections.
*It's possible that they got their hands on two of the same color of this model. Time will tell.