The article was published on April 17, 2020. It was updated on June 25, 2021. See the end of the article for that update.
Ecailles is the French word for scales. What could be fishy about that, right? Let's see what happens.
Ecailles is a great looking and reasonably hard to find vase. Its claim to fame is that it's giving Biskra and Davos Vases a run for the money in the "Worldwide R. Lalique Rare Vase Colors Competition". Ok, there's no real competition like that. But it makes sense they are a colorful trio because Biskra, Davos, and Ecailles were all created early in the Great Depression in the same 30-day period during the spring of 1932. Apparently Lalique picked that time period to liven up the new offerings with new colors.
Moving along, these first two photos are of a blue Ecailles Vase that sold at Rago Arts and Auction Center in Lambertville New Jersey on September 22, 2017 as Lot No. 26. What a great looking vase. It sold for $6500 all-in.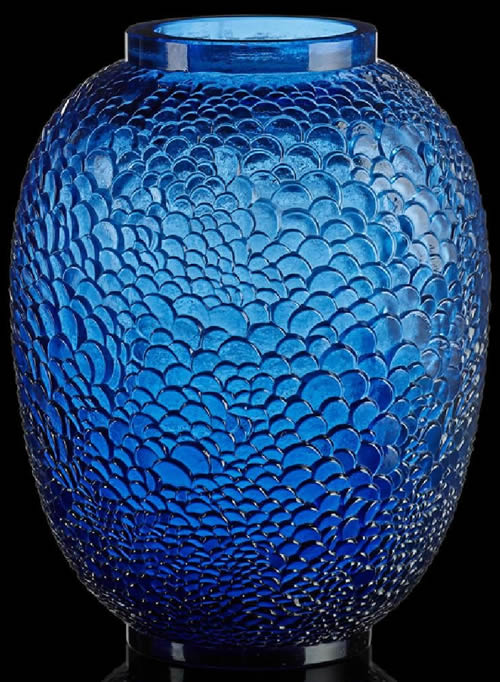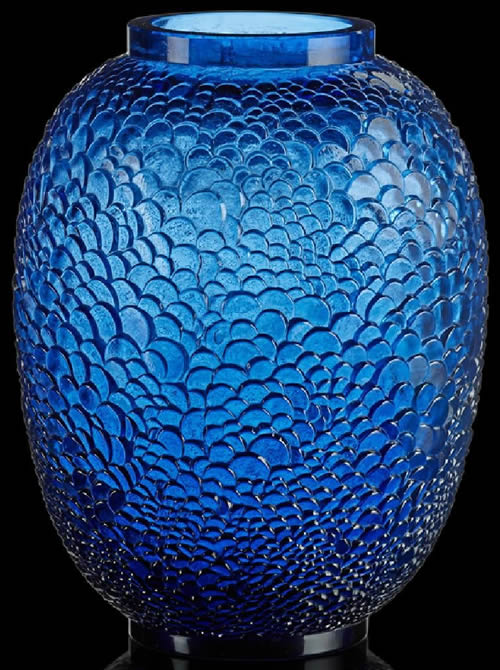 This 2nd pair of photos is of a vase that sold as an Ecailles Vase at Heritage Auctions in Dallas Texas on November 23, 2015 as Lot No. 60224. This vase sold for $11,875 all-in. Please go ahead and compare the Rago Ecailles above to the Heritage vase below. And if you decide to check further and do some research, obviously only the Rago vase above is going to match the literature and documentation for Ecailles.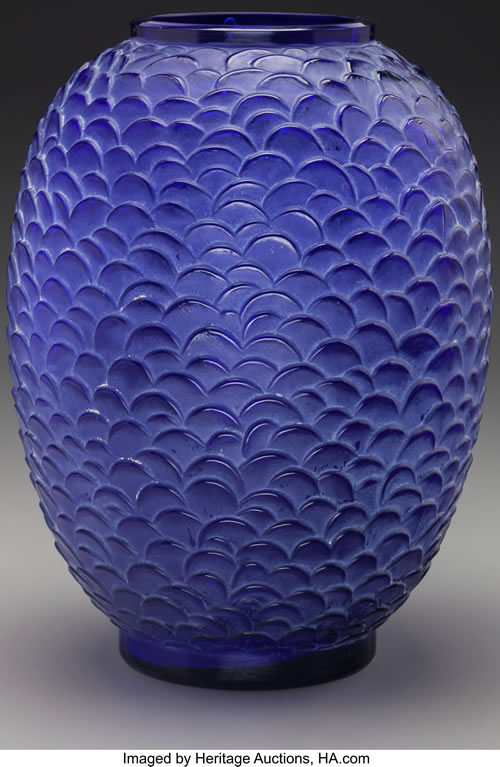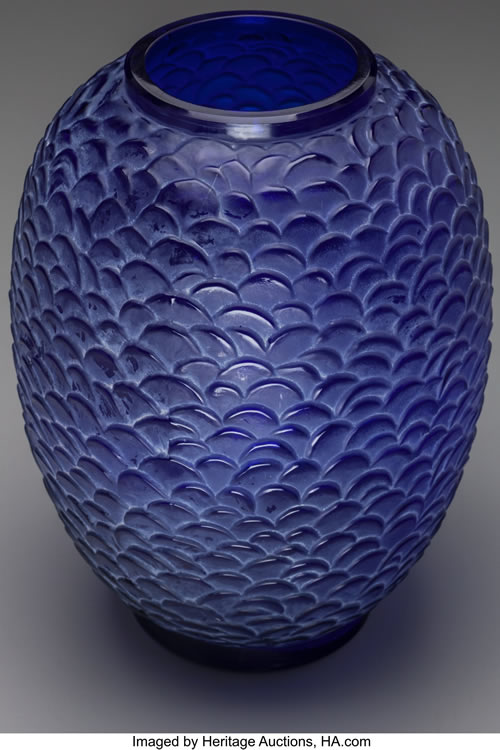 Finally, this 3rd pair of photos is of an unsigned vase by an unknown maker. Let's call this the "source of the problem vase". It fills in all the blanks. You can imagine what a haircut might make it look like, or you can just scroll back up to the Heritage vase.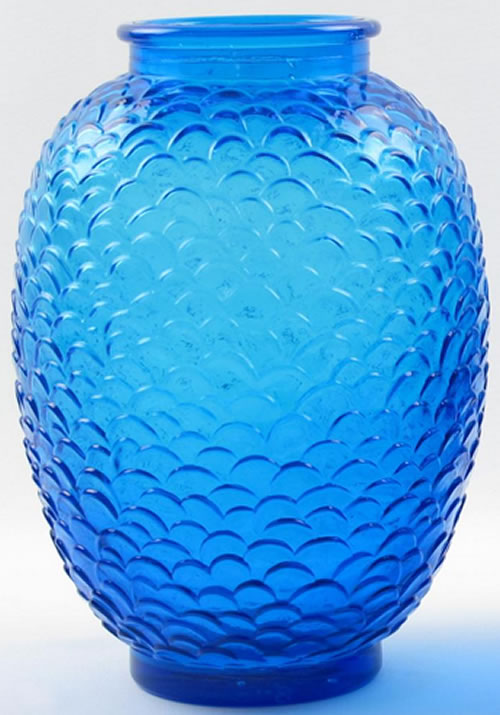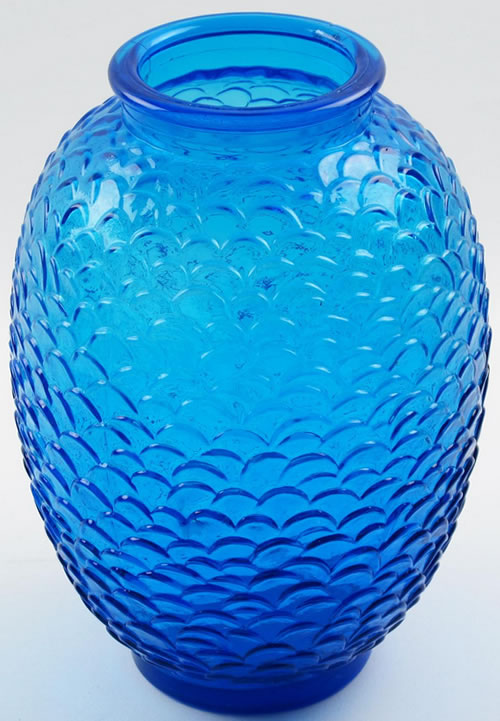 You can see a few more examples of the copy in other colors on the Copies and Close Calls page at Ecailles Copies.
Obviously the "source of the problem vase" was not originally made with the intention to deceive anyone. It's only the later alteration of the vase, and/or the addition of a forged signature, and/or just the representation that it's R. Lalique, that make it problematic. Whoever created this vase didn't include some spurious signature on the underside, and they obviously did not intend to make an exact copy.
As usual, we emphasize that what the seller knew or didn't know, did or didn't do, thought or didn't think, and all that kind of stuff, is not really important to you as a buyer when building your collection. The only thing is for you as a collector to be sufficiently knowledgeable and careful to avoid nightmares and get the right stuff.
And also as usual, if anyone out there in R. Lalique Land thinks we have anything wrong, please let us know by posting a comment here. We will promptly and cheerfully make any necessary corrections.
Article Update: June 25/July 5, 2021 – The listing for the Ecailles Vase vanished from the Heritage website at some point after we first published this article. That's not really a bad thing because fakers can use that auction listing as a reference and evidence that their fake vase is real when trying to pass it off on somebody. On the other hand, having the evidence of the original listing in the proper context such as this article is important as well. So we have included a screen shot below. Also, now that you know how this fake was created, it's worth pointing out at the bottom of the screenshot is the Condition Report's hilarious statement of fact: … "neck has been chamfered slightly".