The bottom line is: A typical collector should never buy a vase with a hole in it to add to their collection. Never Ever. Never Never. And while we're writing that never never thing, it applies to cracks too. And about cracks, we mean any crack of any size anywhere on the vase. Cracks reflect light, so it's easy to differentiate them from wandering press marks made when the piece was molded. And as long as we're rolling, you also don't want any vase whose description includes the word glue or anything to do with pieces being re-attached. You're already in Peter Pan's neighborhood* with a crack, so broken-off and re-attached is basically La-la Land**.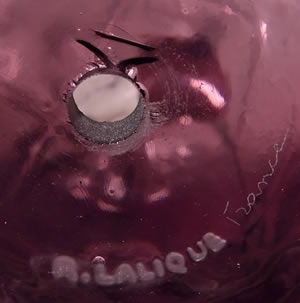 Back to holes, here are our seemingly random hole thoughts that will be tied together neatly at the end as they just were at the beginning.
If the holey nature of the vase is specified by the seller, most condition reports on these religious objects usually end with a phrase like "otherwise in excellent condition".
Condition Report: Part of the rim is missing and the part that remains has several large chips and a hard to see hairline crack. There is an old well-done staple repair to the body and a professionally drilled hole in the center of the underside. Otherwise in excellent condition.
And for a lot of vases that are still part of an assembled lamp, the seller doesn't even mention the good news about the hole.
A few housekeeping matters and corner cases should be cleared-up before we talk money.
Lalique did sell a small group of vases as reflector lamps, and those had a pencil sized hole drilled just above the base on the outside of the vase.
Unless that side-hole vase comes as an original lamp, with all the original parts, the market treats it the same as the vases with the big hole in the middle of the bottom. And even if you had a complete original reflector lamp, it would still be a tough sell.
And of course we have seen some vases with the little pencil hole on the side that were later drilled by someone else.
We saw just such a vase up in the northeast at a major auction house some years back. It creatively had a thick paint-like covering around the underside and outside of the base (it wasn't red paint but still….. red alert, right?) The specialist told us that the vase was being deaccessioned (a foofy*** synonym of "dumped") by a museum. She said the material was dried out sticky stuff that was the museum's practice to apply to glass pieces to hold them in place in their display. Yea sure. The vase was like one of those scratch-off lottery cards except with the lottery card when you scratch off the coating, you have a slim chance to win. Who could have guessed that of course there was a hole under the paint as found out by the lucky buyer who paid somewhere around the $20,000 full retail value of the non-holey version of the vase.
Most lamps made from vases were done for and by retailers and others looking to add value and make more money. It was a common practice in the 20's. Lalique did not sell lamps made from vases with big holes in the underside.
Finally, for truly unique objects, such as a Cire Perdue Vase, there would still be a good (just likely nowhere near as good) market for the vase.
And you have to consider that there are some realistic non-collection reasons for someone to buy such a vase. They may just like the lamp made with a good-looking vase and be happy to own it as a decorative object for pennies on the dollar. A museum looking to stretch the acquisition budget can get somewhere around 5 to 15 times as many vases for the same investment as 1 good vase, and of course the people seeing the vases at the museum will not see the holes. A buyer may not be able to afford their favorite R. Lalique vase and going to church is the only way to get one.
If it weren't for these corner case reasons, there would be no market at all for these things. So, as long as you have your eyes wide-open while praying for a miracle, you don't overpay (we're getting to that), you don't have an expectation of a profit, and you know finding a buyer when the time comes will be harder than for "whole" pieces, there's nothing wrong with buying one of these shiny objects.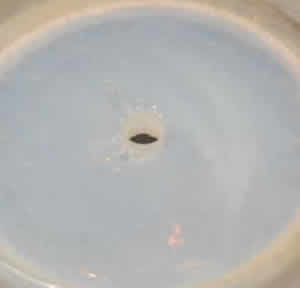 What does eyes wide-open mean? This is an important question because for example collectors familiar with other collecting fields that don't care about pot holes may not realize just how big the financial hit will be. And beginners or newer collectors dealing with major and reputable auction houses may not realize the value hit of that fully disclosed hole and pay some ridiculous price that can never be recovered. And adding insult to injury unless you can find the right plastic plug at Ace Hardware, you can't even put real flowers in your new acquisition. That's not a small point. Anyone tries to tell you any reason to buy a vase with a hole in it for your collection, let them know their reason doesn't hold water****!
So here it is:
1. The re-sale market is extremely limited for these items. There just aren't a lot of people chasing damaged goods.
2. When you do find your buyer, it won't be a serious collector.
3. All other factors being equal, the market value of these vases is usually around 10% to 15% of the value of an example of the exact same vase that can hold water. These estimates only apply to commercial vases that if perfect would be valued at less than $20,000 in the market at the time. For higher value vases, the percentages would drop as the value rises. And in any event, if it's not an attractive colored vase that displays well, the percentage can be much less, or the vase can be basically unsalable.
4. Think of that hole as an open drain and imagine your purchase price being flushed down it. So if you are looking for appreciation over time, or just hoping to be able to get your money back when the time comes, you may be disappointed.
The bottom line: A typical collector should never buy a vase with a hole in it to add to their collection. Never Ever. Never Never. And the same applies to cracked pieces, and to pieces that have gone to pieces*****.
* Peter Pan's neighborhood is Neverland!
** La-la Land from the American Heritage Dictionary: A state of mind characterized by a frivolous or unrealistic lack of seriousness. From Merriam-Webster: A euphoric, dreamlike mental state detached from the harsher realities of life. And humorously at both Dictionary.com and Merriam-Webster.com the No. 2 definition for La-la Land is a nickname for Los Angeles (L.A.) California. Who could have guessed that?
*** Foofy is an American slang adjective meaning excessively puffed-up with the intention of making something seem more meaningful, serious, or important than it really is. Consider this: Honey, I'm going to deaccession my cracked coffee cup today. Where's the garbage can?
**** Doesn't hold water is an expression that means a statement, argument, reason, or story is false, bad, unreal, flawed, or unsound. From https://dictionary.cambridge.org/dictionary/english/hold-water: The jury convicted her because her story just didn't hold water. Our note: If her story did hold water, it would be the opposite of all the preceding. No one knows the origin of the expression but consider Jeremiah 2:13 from the Old Testament: My people have committed two sins: They have forsaken me, the spring of living water, and have dug their own cisterns, broken cisterns that cannot hold water.
***** Gone to pieces or Go to pieces from https://idioms.thefreedictionary.com: 1. To fall apart into many pieces (the vase …… went to pieces). 2. To become nonfunctional (his plan went to pieces). 3. To have a mental collapse or experience a mental or emotional breakdown. Our note: No 3. is what can happen to someone when they realize all their No. 1 and No. 2 acquisitions are nearly or totally worthless. 🙂