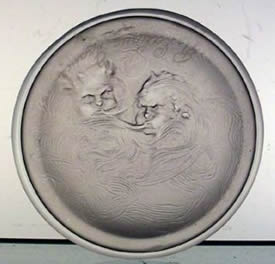 Rene Lalique's early ashtray (cendrier) Deux Zephyrs appeared online at auction this morning. Listed as a Lalique France Coaster Open Salt and sporting a starting price of $5 and no reserve, it seems like a great opportunity to get one of the first of the R Lalique ashtrays at a fair price (but probably more than $5. 🙂 The ashtray is signed on the underside R. Lalique France as shown here and is circa 1913. The description indicates the ashtray is in pretty good condition with the seller having over 1400 feedbacks at 99.6% positive, and a set shipping price in the U.S. of under $6.
Update: The sellers canceled their original listing and have re-listed the item on Ebay to correct the errors in their description as item number 320370910728. It's now $9.99 no reserve. The new auction expires May 19th.
Here is a link to a saved/cached image version of the original Rene Lalique Ashtray Deux Zephyrs listing online. You may have to use the zoom function of your browser (or whatever program opens images for you) to get the cached image to expand in the window if it does not appear full size. After clicking on the link to the item, a new window will open with the cached image in it. On a Mac, just press the apple key and click on the cached image in your browser window. On a PC, hold down the alt key while clicking on the cached image.
This item is also listed in our Rene Lalique Worldwide Auction Section.
July 19th, 2009 Update – Switched item link to cached version.
All Articles on These Topics: R Lalique - Rene Lalique Authentication, R Lalique and Rene Lalique on Ebay, R Lalique Rene Lalique Auctions News and Results, Rene Lalique Ashtrays and R Lalique Ashtrays