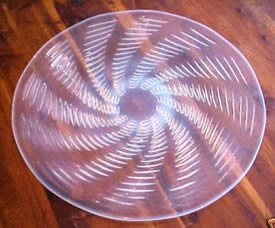 Rene Lalique Plate Ondes Online: $19.99 No Reserve in Opalescent Glass! Lalique made a lot of tableware, and the R.Lalique Ondes Plate that appeared online this morning, 11 inches wide and opalescent glass, is a good example that is typical of the dizzying array of plates and dishes that poured out of the Lalique factory before World War II. Most of these designs were made in large numbers, and even with the high percentage of broken pieces over the years of use, handling and war, a good number still remain. Here online, is one such R Lalique survivor, in apparently good condition, and sporting the extremely reasonable starting price of under $20 without reserve from a high volume 100% feedback seller. This plate is listed as Ondes No. 2 in the R.Lalique Catalogue Raisonne. The R.Lalique number 10-3035 and is shown on page 721 of the 2004 (and latest) edition. This example is signed in block letters R. Lalique France. A seemingly good chance to pick up a solid example of Lalique glass tableware that was intended for daily use at a possible bargain price, subject of course, to where the bidding leads. 🙂 The auction ends on May 23rd.
Here is a link to a saved/cached image version of the original Rene Lalique Plate Ondes listing online. You may have to use the zoom function of your browser (or whatever program opens images for you) to get the cached image to expand in the window if it does not appear full size. After clicking on the link to the item, a new window will open with the cached image in it. On a Mac, just press the apple key and click on the cached image in your browser window. On a PC, hold down the alt key while clicking on the cached image.
This R.Lalique item is also listed in our Rene Lalique Auctions Worldwide Section.
All Articles on These Topics: R Lalique and Rene Lalique on Ebay, R Lalique Rene Lalique Auctions News and Results, Rene Lalique Plates and R Lalique Plates