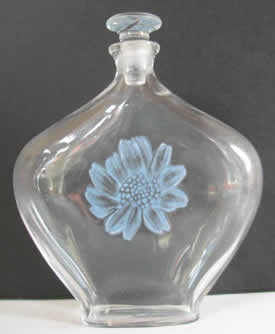 Rene Lalique Perfume Bottle Camelia for D'Orsay Appears at Auction: A wonderful and pretty rare R Lalique perfume bottle Camelia circa 1912 has appeared at auction online. It started at $9.99 no reserve, and is already over $800. The seller, as is usual in the circumstances, apparently did not know the true value of this perfume bottle, did not know the name of the bottle, and did not know the bottle was the work of Rene Lalique. He has been inundated with requests to stop the auction by buyers hoping to get a bargain. Humorously, the seller posted the following in his ad: "I have been asked to end this early and will not! So please stop asking me!" Smart seller!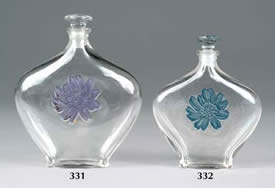 This bottle was reportedly made in two sizes, 9 and 10.5 cm, both of which appeared in the Lalique Sale in Paris at Boisgirard and Associes on December 6, 2005 which was the liquidation of many great items from the Marie Claude Lalique estate. At that sale, the smaller bottle was listed at 9.5 cm, but as you can see from the photo in that 2005 sale catalogue which is shown here, it appears there is more than a 1 cm difference in the heights of the two bottles. Also, neither bottle was signed, just like the one currently online. It appears from the measurement in the ad for this Camelia, that this is the larger of the two.
Here is a link to a saved/cached image version of the original Rene Lalique Camelia Perfume Bottle listing online. You may have to use the zoom function of your browser (or whatever program opens images for you) to get the cached image to expand in the window if it does not appear full size. On a Mac, just press the apple key and click on the cached image in your. On a PC, hold down the alt key while clicking on the cached image.
We've also listed this bottle in our R Lalique Worldwide Auction Section. And don't forget as you take a look, there is a rare matching box that goes with this bottle! The two pieces together making quite a nice display if you can acquire them.
July 19th, 2009 Update – Switched item link to cached version.