A bit late in the season, but a Halloween ashtray on all levels!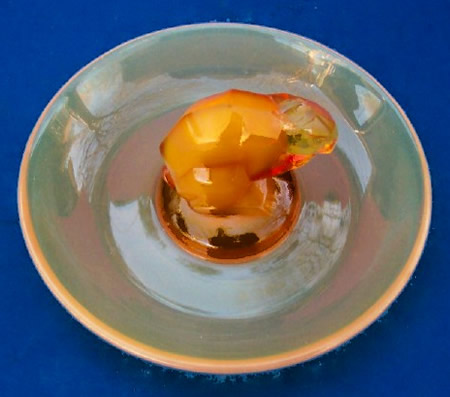 And this from the 100% Positive Feedback "Cowtown USA" seller's description:" …. THE DISH HAS A CHIP ON THE TOP OF THE LAPINS HEAD …..HARDLY NOTICEABLE WHEN DISPLAYED…… "
Here is a link to a saved/cached image version of the original 160387582298 listing online. You may have to use the zoom function of your browser (or whatever program opens images for you) to get the cached image to expand in the window if it does not appear full size. After clicking on the link to the item, a new window will open with the cached image in it. On a Mac, just click on the image and see if that expands it. If not, press the apple key and click on the cached image in your browser window. On a PC, hold down the alt key while clicking on the cached image.
What a great color! For more information, visit the Rene Lalique Tailor Shop where you'll find other common R Lalique alterations or damages to look out for.
Oh yea, we almost forgot. If anyone has any comments about this piece, we're all ears!
February 26th, 2010 Update: Switched Item Link To Cached Image Version