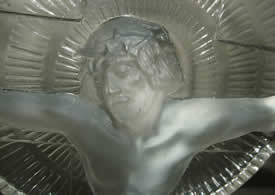 A Rene Lalique Christ Statue in the form of a Lalique crucifix plaque in wooden base has appeared at auction with a $9.99 starting price and no reserve.
This R Lalique Statue of Christ, in the form of a crucifix, is catalogue raisonne number #1212 in the wooden base version. It's a good-size statue, measuring about 10 inches in height overall including base. The seller, with 100% feedback, provides free shipping in the U.S., and represents the condition as follows: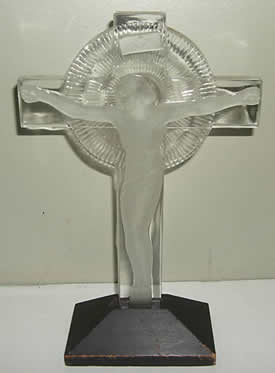 This is In very nice shape no scratches the wood base has minor paint loss due to age, and there is one minor flea bite on the bottom probably due to being pulled from the wood base.
The seller has also included extensive photos so you can judge for yourself the condition details of both the statue and the base. The wood base is likely not the preferred display method for may owners due to the tendency of wood bases to show wear and tear over the years. However there is a certain period and historical charm to have an original well-worn base sporting a statue in near perfect (according to the seller of course:) condition.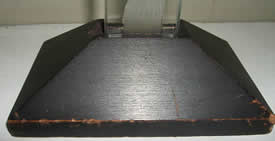 A nice R Lalique glass item to purchase and donate to a local church for their own use or as a raffle item, or as an amazing gift to the right person, or of course to add to your collection of the works of the great Lalique. There are sufficient numbers of religious objects designed by Rene Lalique, especially representations of Christ, that they comprise a collecting field in their own right. They are also of interest to collectors of religious artwork and glass decorative objects that collect a variety of makers in addition to the works of Lalique.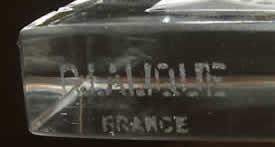 Here is a link to a saved/cached image version of the original 120471841877 listing online. You may have to use the zoom function of your browser (or whatever program opens images for you) to get the cached image to expand in the window if it does not appear full size. After clicking on the link to the item, a new window will open with the cached image in it. On a Mac, just click on the image and see if that expands it. If not, press the apple key and click on the cached image in your browser window. On a PC, hold down the alt key while clicking on the cached image. You can also see this great Rene Lalique Statue listed in the Rene Lalique Auctions Worldwide Section, where you will also find additional works of Rene Lalique at Auction all across the globe.
December 3rd, 2009 Update: Switched Item Link To Cached Image Version
All Articles on These Topics: R Lalique and Rene Lalique on Ebay, R Lalique Rene Lalique Auctions News and Results, Rene Lalique Statues Figurines: R Lalique Statues