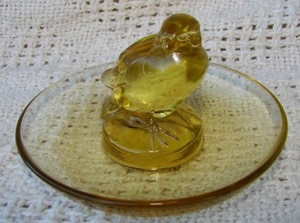 Rene Lalique's great ashtray – cendrier designs are dissed a lot these days. Ring dish is the latest modern preferred phrase when referring to one, but there are others. Today's entry is a Rene Lalique "Ring Holder"! Close enough.
$9.99 to start and a no reserve auction on a yellow amber R Lalique Ring Holder Moineau, or whatever nom de plume or misnomer it's given. It's still an R Lalique Ashtray of course no matter what you call it. This whole PC naming thing is for the birds of course.
Online ending Oct 2nd, from a highly rated seller: 6500 feedbacks at 99.9%. Not bad. The southern California seller states:
"Super item in excellent condition, I find no chips cracks scratches or repair".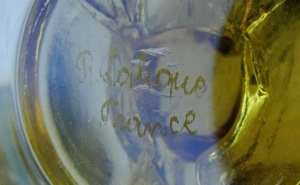 Here is a link to a saved/cached image version of the original 350257386001 listing online. You may have to use the zoom function of your browser (or whatever program opens images for you) to get the cached image to expand in the window if it does not appear full size. After clicking on the link to the item, a new window will open with the cached image in it. On a Mac, just click on the image and see if that expands it. If not, press the apple key and click on the cached image in your browser window. On a PC, hold down the alt key while clicking on the cached image. All you "Ring Holder" collectors might want to check it out. The auction ends October 2nd.
This great little ashtray is also listed in the Rene Lalique Auctions Section here at RLalique.com.
December 3rd, 2009 Update: Switched Item Link To Cached Image Version
All Articles on These Topics: R Lalique and Rene Lalique on Ebay, R Lalique Rene Lalique Auctions News and Results, Rene Lalique Ashtrays and R Lalique Ashtrays