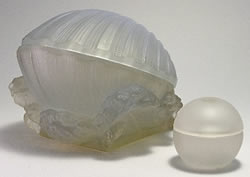 Rene Lalique 1939 Tresor de la Mer Oyster Box and Pearl Bottle created for Saks Fifth Avenue by Lalique, sold on May 1st at the Perfume Bottles Auction in New Mexico for a premium inclusive $24,000. The auction was managed by Ken Leach, with Nick Dawes as the auctioneer. It was held in conjunction with the Annual Convention of the IPBA – The International Perfume Bottle Association. The auction contained several hundred perfume lots, including a decent selection of Lalique Perfume Bottles, of which the Tresor De La Mer was the most notable. The Tresor De La Mer was far from perfect, being described as follows (and see photos):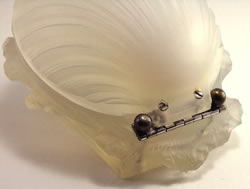 Lot 222: R. Lalique 1939 Saks Fifth Ave. Tresor de la Mer presentation, from limited edition of 50, powder box in opalescent glass holding frosted glass perfume bottle. Signed Lalique. Hinge restored; bottle replaced. btl. 1 7/8 in.
Complete sales results transmitted by the auction house to RLalique.com World Headquarters, showed an overall take up rate of just under 80% for the Rene Lalique items, with 15 of the 19 R Lalique lots selling, highlighted of course by the strong price for this extremely rare Rene Lalique creation, which was unfortunately in very problematic condition.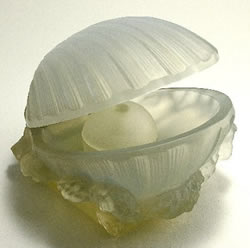 Those of you who follow RLalique.com regularly (OK, that's everyone, right? 🙂 will recall that a Tresor De La Mer made a fantastic premium inclusive price of $216,000 at Rago Arts and Auction Center in New Jersey in November of 2006 when a basically original and complete example appeared in its original box with original tags. This was at the time, and remains today the highest price ever recorded for a Rene Lalique Perfume at auction anywhere in the world. And of course, nothing brings out another example or two faster than a great auction price!
Another R Lalique Tresor De La Mer also appeared on Ebay after that, which was discussed in this Rene Lalique Perfume blog and news post.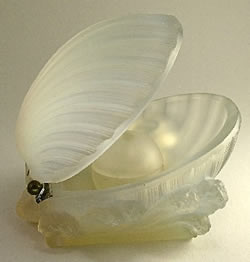 One final note on this great Rene Lalique Sales result: The literature has indicated that 50 of these R Lalique Oyster Perfume Presentations for Saks were produced. However the original tag on the Rene Lalique Tresor De La Mer that appeared at Rago in 2006 indicated it was one of 100 examples.
The 20th Annual IPBA Perfume Bottles Auction is scheduled to be held in Reston, Virginia, in May of 2010 in conjunction with its next IPBA Annual Convention.
All Articles on These Topics: R Lalique Rene Lalique Auctions News and Results, Rene Lalique Perfume Bottles - R Lalique Perfumes