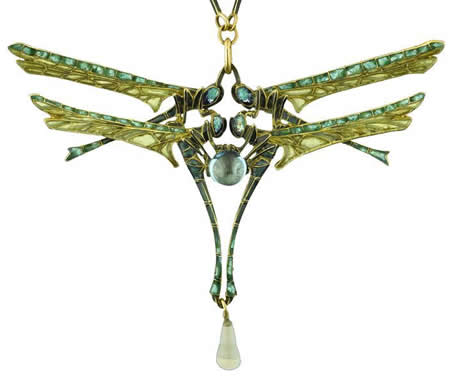 Lalique Jewlery (and Lalique Jewellery 🙂 ) Sells Well: The Rene Lalique Dragonfly Pendant which was sold in the Salisbury Salesrooms of UK Auctioneer Woolley and Wallis in their Jewellery Sale on April 30th and which carried an estimate of £30,000 to £40,000 British Pounds, made a hammer price of £38,000. With the 19.5 percent Buyer's Premium, and the current exchange rate of roughly 1.5 US Dollars to British Pounds, that works out to over $68,000 plus VAT. This great looking Lalique pendant, a picture of which had graced the Home Page of RLalique.com for nearly a month, was Lot No. 1386 and was catalogued as follows:

An Art Nouveau gold dragonfly pendant by René Lalique. The four dragonflies grouped around a central cabochon blue stone and suspending a pear shaped blue stone. With plique-a-jour enamel and plain enamel decoration. The reverse realistically chased. Signed LALIQUE and with French control mark. On a gold bar link chain with enamel decoration and plain fine gold link extension. Partially obscured mark to the suspension ring, probably a cross between RL within a lozenge for René Lalique. 7cm wide. With a cream silk square box signed R. Lalique. 40 Cours – la – Reine. Paris to the lining.
Another nice solid result for Rene Lalique this auction season, in line with the wide (and therefore) spot on estimate, for a great looking R Lalique Jewelry Pendant, and a fine example of the work of Rene Lalique from the period.
All Articles on These Topics: R Lalique Rene Lalique Auctions News and Results, Rene Lalique Jewelry and R Lalique Jewelry