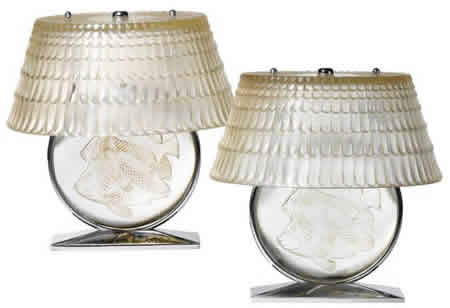 Lalique Art Glass sold extremely well in Sotheby's London Fine 20th Century Design Sale on November 9th. This continued a trend of strong Rene Lalique auction pricing which has been ongoing for the last several years.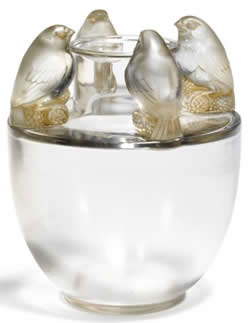 Sotheby's offered 18 attractive R Lalique pieces, with the majority being the iconic Lalique Vases, many of them colored glass. 16 of the lots sold, for a take up rate of 88%. All the lots that did sell went in or above the estimates, many times well above.
The sale totaled (including buyers premium for all prices discussed in this article) £305,625, or in dollars (at 1.68 dollars to the pound) $513.450. This works out to average sales prices of £19,102 or $32,091.
High seller was the attractive and rare Lalique Clock Le Jour et la Nuit: The Day and the Night Clock in very attractive blue glass. This clock is one of the artistic triumphs of Rene Lalique and it made a reasonable £91,250/$153,300 against an estimate of £60,000-£80,000.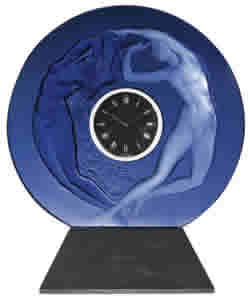 This one lot represented 30% of the total Lalique sales prices for all 16 sold lots. But this was by no means a runaway price as this model Lalique Clock in blue glass has previously sold in this price range.
Second high seller was the Lalique Vase Bellecour making £28,750/$48,300 against an estimate of £12,000 – £18,000.
A strong price indeed and a bit of a surprise as this vase outsold some strong colored vases to make its 2nd place showing. Several Bellecour vases have appeared in the past couple of years, but price wise, this one outshone them all by a substantial margin.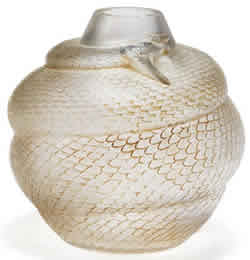 Third best lot was a rare pair of the 30 cm tall Rene Lalique Table Lamps in the Poissons model. These lamps sold for £25,000/$42,000 against a spot on estimate of £20,000 – £30,000.
Fourth place was taken up by the red glass Rene Lalique Vase Escargot. Escargot vases in colored glass are getting very hard to find at public auctions. Also very scarce are true red glass Lalique Vases. These two factors no doubt helped the bidding along to the final total of £22,500/$37,800 against the pre-sale estimate of £10,000 to £15,000.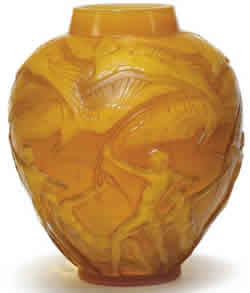 Fifth high seller was the Lalique Poissons Vase in an attractive green color, one of the many varieties of green that this vase has been seen in. The Poissons made £20,000/$33,600 against its conservative estimate of £8,000 – £12,000.
Overall 10 of the 16 sold lots were vases, accounting for £146,875/$246,750, or just under half the Lalique sale total.
One other price worth mentioning was achieved by three different highly popular and attractive vases, all of which sold for £16,250/$27,300.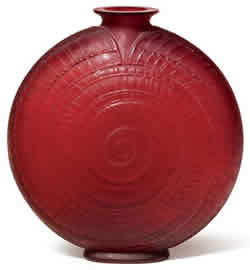 One was a butterscotch colored (cased yellow amber and opalescent) Archers Vase, one was an opalescent Bacchantes Vase, and the third was a clear and frosted Rene Lalique Serpent Vase. While not representing a giant leap from previous sale prices, this may be the highest price ever paid at auction for a clear and frosted Serpent Vase.
The colorless Serpent Vase selling for the same price as the Butterscotch Archers and the Opalescent Bacchantes shows just how strong the demand is for rare Serpent Vases in today's market, as even non-colored glass versions of this great Rene Lalique design can compete on price with highly popular opalescent and cased colored versions of other attractive but more plentiful Lalique Vase models.
Here are all the Rene Lalique Sales Results for this sale:
Lot 55 – 'Anémones' circular mirror – £8,750/$14,700
Lot 56 – 'Bacchantes' vase – £16,250/$27,300
Lot 57 – 'Poissons' pair of table lamps – £25,000/$42,000
Lot 58 – 'Le Jour et la Nuit' timepiece – £91,250/$153,300
Lot 112 – 'Cigognes' vase – £7,500/$12,600
Lot 113 – 'Baies' vase – £7,500/$12,600
Lot 123 – 'Serpent' vase – £16,250/$27,300
Lot 124 – 'Perruches' vase – £5,625/$9,450
Lot 124 – 'Bellecour' vase – £28,750/$48,300
Lot 126 – 'Cardamine' lamp – £12,500/$21,000
Lot 128 – 'Escargot' vase – £22,500/$37,800
Lot 129 – 'Grande Nue Socle Lierre' – £15,000/$25,200
Lot 130 – 'Madagascar' bowl – £6,250/$10,500
Lot 131 – 'Poissons' vase – £20,000/$33,600
Lot 133 – 'Archers' vase (amber) – £6,250/$10,500
Lot 134 – 'Archers' vase (butterscotch) – £16,250/$27,300
Lots 114 and 132, Antelopes and Poissons Vases respectively, did not sell
The period between November 1st and Christmas is traditionally the time of year when the highest volume of Rene Lalique works appear at auction, and this year is no exception. There are several auctions with large numbers of Lalique offerings coming up in the next several weeks. And there will be over 100 auctions with lesser numbers of R. Lalique lots as well. You can follow all the auction action and keep informed about all the upcoming Rene Lalique auction offerings in the Lalique Auctions Section at RLalique.com. And for research and information on thousands of previous Lalique auction sales, check out the Past Lalique Auctions pages as well.