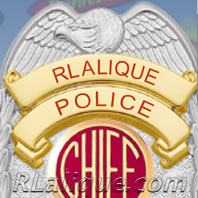 A great day here at RLalique.com. Today we launch two new sections adding major new features for the entire RLalique community. First, the RLalique Police! The purpose of this section is to give users of our site a place to tell the community about suspicious RLalique items in online auctions, and to give everyone a chance to talk about the items, make comments and observations, and share their knowledge about the actual identity of the suspicious items. There are two parts to this new feature; the RLalique Police Blog Thread that is the place where you can leave a comment pointing to a suspicious listing, or comment on previous listings reported by other users. We will copy those listings to the new RLalique Police Section, which will simply have a list of suspicious RLalique items at auction reported by users in the RLalique Police Blog Thread. The point of the section is to sort out the actual suspicious listings from the blog comments for easy and fast reference by users concerned about particular items online that they might be considering. The RLalique Police Blog Thread is just below this announcement, and that thread is linked from the RLalique Police Section. This has been our most requested feature since the inception of RLalique.com and we have high hopes for users to have a chance to contribute to the greater pool of information for the entire RLalique community through the new RLalique Police Blog Thread and RLalique Police Section.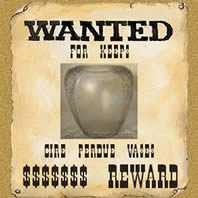 The second new feature is the RLalique Wanted Section, where users can list specific RLalique items they are looking to add to their collections. This should provide a way for active collectors to get the word out about items they want to find, and it's also a great way for collectors that have a matching piece, to have a chance to make a sale to someone they know is looking for the item they have, at a reasonable commission rate, and where both parties' identify is kept confidential. A Win-Win-Win situation.
Please take a minute to check out our new features. We hope you will participate in listing any RLalique items you are seriously looking for in the RLalique Wanted Section, and that you will take the time to point out suspicious RLalique online auction listings, and share whatever knowledge you have about these items as they appear.
Finally, we've added another row of picture links near the bottom of our Home Page, to link these two new sections directly from the graphics area of the Home Page. And we've added these additional links to all of the navigation bars throughout RLalique.com. We pride ourselves on the ease of use of RLalique.com, and we hope you find these additions and improvements to your liking. As we might have mentioned before, we know your time is valuable, and we appreciate the time you spend here with us at RLalique.com. We are working hard to ensure that your time is well spent and we appreciate any and every contribution you are willing to make to help improve the overall RLalique community.
All Articles on These Topics: R Lalique and Rene Lalique Wanted To Buy, RLalique.com, Suspicious RLalique-R Lalique-Rene Lalique Auctions