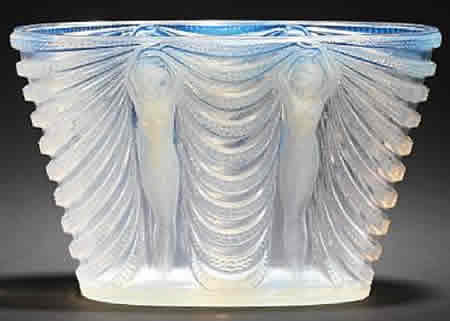 Rene Lalique Glass was represented in Bonham's November 17th London "Design from 1860" Sale by 25 lots near the end of the morning sale session. As is typical, just over half, or 13 of the lots were the famous Lalique Vases, including two lots which had two vases in each lot.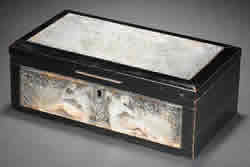 High selling vase and high seller for all the Lalique was the great looking 1937 Art Deco and figural oblong Lalique Vase Terpsichore in opalescent glass. It made £27,500 hammer price, or £33,000. And at 1.68 to the dollar (used for all computations in this article), about $55,400 including buyers premium. A standout result and an indicator that high-end opalescent vases are participating in the price gains seen the past several years by Lalique's colored glass vases. For more information about this lot, check out the original Lalique Terpischore Vase auction listing in the Auctions Past section of the website.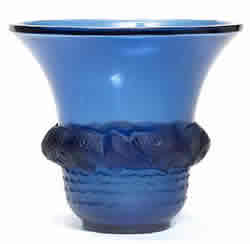 Next high seller, at £21,600/$36,300 all-in, was the Lalique Coffret Figurines. Selling as Lot 264, the wood box with glass panel inserts, sported only 2 glass panels, and did not match the 5-panel model shown in the catalogue raisonne. It also may be the same box that has been offered at auction in two other countries without success in the last year or so. Nonetheless, to Bonham's credit, the attractive box went off at a great price, and a well-earned 2nd place in the Lalique Sales sweepstakes.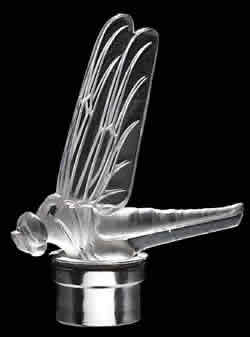 Prices dropped off pretty quickly from there, with the next several high sellers making roughly a quarter or less of the 2nd place price. Lot 254, a good looking Lalique Piriac Vase in blue glass, came 3rd at £5,760/$9,700. 4th/5th slot was a tie between Lot 252, a yellow amber and cased opalescent Lalique Chardons vase, and Lot 249, a Lalique Grande Libellule Dragonfly Car Mascot. Each was all-in for £4,800/$8,100.
Of the initial 25 offerings, 24 found new owners, for a nearly perfect take-up rate of 96% for the works of the great Lalique. In all the Lalique sales totaled £107,340/$180,300 with the two top lots representing roughly 50% of the 24 lot total.
For more information about the great Lalique's vases, check out the Rene Lalique Vases section of Lalique Biography at RLalique.com, where you'll find links to all the Lalique vase information and resources on the website.
All Articles on These Topics: R Lalique Rene Lalique Auctions News and Results, R Lalique Vases and Rene Lalique Vases, Rene Lalique Boxes and R Lalique Covered Boxes, Rene Lalique Car Mascots and R Lalique Car Mascots