Rene Lalique glass (and a book!) at fair prices and no reserves online got our attention this week, and we thought we'd share our observations on a few of these current R Lalique antiques auctions with you.
Note: This page was updated on December 31, 2009 to change the links to the Ebay items from the actual listings to cached/saved copies of those listings. You may have to use the zoom function of your browser (or whatever program opens images for you) to get the cached image to expand in the window if it does not appear full size. After clicking on the link to the item, a new window will open with the cached image in it. On a Mac, just click on the image and see if that expands it. If not, press the apple key and click on the cached image in your browser window. On a PC, hold down the alt key while clicking on the cached image.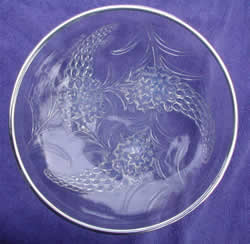 First up, a silver rimmed Lalique Veronique Opalescent Bowl, #397. These silver rims were added post factory to pieces both in the period and as recently as yesterday :). Two reasons of course. First is decorative and personal preference, maybe a retailer enhancement (we know that sounds like three reasons but it's really only one if you think about it). Second is to cover up damage and restore the usability of a piece. We always look at these with great caution, but the concept is found attractive by many potential buyers and silver rimmed items are saleable barring other problems. This is a good looking, somewhat opalescent bowl, in apparent good condition, and hardly seems a risk at the current price of around $125 U.S. dollars. The auction ends October 25th. Here is a link to a saved/cached image version of the original 180421636980 listing online.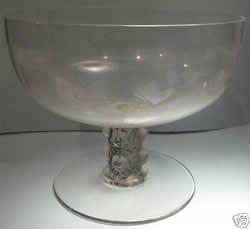 Next up is a piece that every time we see it, we think about the old Superman TV show in black and white seen on the nearly round TV screens of the early 60's ….. it's a vase, it's stemware, it's a chalice …… no, it's a bowl (it's also a stretch, but it did come to mind)! The Saint Denis bowl #388, in apparent good condition (the seller notes the bowl is slightly cloudy), black enamel on the stem, and under $10 to start with no reserve. Hmmmm. Hard to pass up. If you were wondering, Saint Denis is now basically engulfed as a suburb of Paris. The cathedral there is rich in history, being famous as the place where French Queens were crowned, and French Kings were buried! Are these two things related? The auction ends October 28th. Here is a link to a saved/cached image version of the original 290362239638 listing online.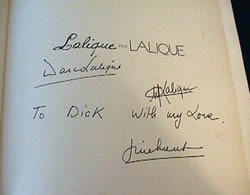 Third on the list is the early, smaller (300 pages or so) edition of Lalique Par Lalique, 1977. $9.99 no reserve, with dustcover, in good condition, and $6 shipping in the US. Seems it would be cheap as chips, if it were in Britain of course. Oh …. and signed by someone (see photo)! If your name is Dick, this has to be hard to pass up. 🙂 The auction ends October 27th. Here is a link to a saved/cached image version of the original 170397120939 listing online.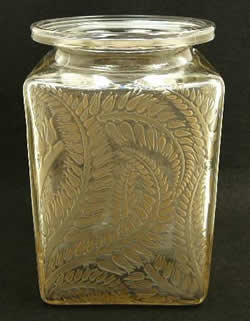 Fourth on the list is the Rene Lalique Vase Myrrhis, a rare and not so great looking vase (opinions vary), but if you buy by the pound or the inch, a bargain at its current price of $160 and no reserve. And to be fair, a bargain for however you buy if you can get it near this price. The auction ends October 28th. Here is a link to a saved/cached image version of the original 130339068924 listing online.
Last in our wrap-up is an Souris Mouse Cendrier Ashtray in opalescent glass. In pretty good shape, there may be a small chip on the nose (better than a big chip on the shoulder of course), but the starting price of 1 Brit Pound, and the current price of around 27 Pounds, seems to more than take a minor matter or two into consideration! The auction ends October 31st. Here is a link to a saved/cached image version of the original 250517976871 listing online.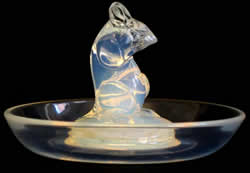 We've listed all of these items in our Rene Lalique Auctions Worldwide section here on the site. And of course, our usual caution to make your own investigation of the condition, and also to carefully review the terms of the sale if you take an interest in any of the items.
All Articles on These Topics: R Lalique and Rene Lalique on Ebay, R Lalique Rene Lalique Auctions News and Results, R Lalique Vases and Rene Lalique Vases, Rene Lalique Bowls and R Lalique Bowls