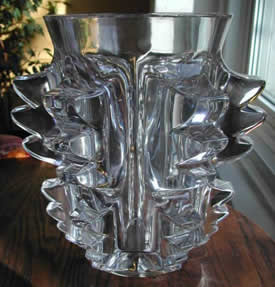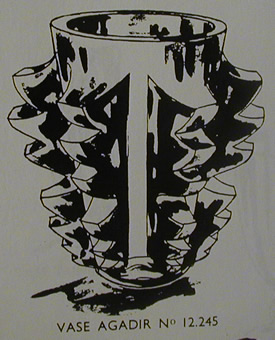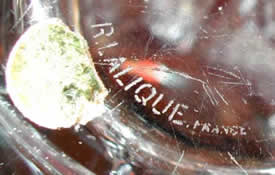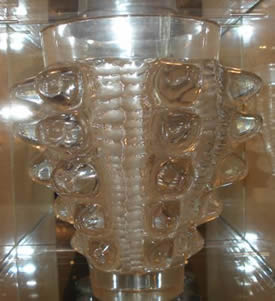 Lalique Rare Vase Appears With A Good R.Lalique Signature: The Lalique Vase Agadir! Ring any bells? It's Lalique Vase model number 12.245. It appears in the catalogue right after the Lalique Vase Everest, which of course is number 12.244, and right before the Lalique Vase Vincennes, number 12.246. But the catalogue is not the Catalogue Raisonne. It's a 1950's Lalique Cristal-Paris catalogue. But here it is, in the flesh (a LOT of flesh we might add), with what by all appearances is a good R.Lalique signature. And this sure seems like the sister vase to the Cristal Lalique Vase Paimpol (shown in the last photo below), which is model number 12.240, and which appears in the book Lalique Glass, by Nicholas Dawes on Page 105! As you have likely surmised, this excellent book, among its other virtues, is the favorite Lalique book of Mr. Dawes! Mr. Dawes states in the book that the Paimpol vase had a wheelcut R.Lalique signature. And we have word coming out of a meeting of Oracles held to discuss this very subject, that one of the Oracles that participated in the meeting confirmed beyond doubt the authenticity of the R.Lalique signature on the Paimpol Vase!
So, read from the Ebay Listing – Item Number 310131680828 on the Agadir: "This old signed R. LALIQUE FRANCE vase is 10¾" (27 cm) high and weight app. 27 pounds!!!! The diameter is 11 5/8″ at its widest point and the top diameter is 8¼" large."
Do you have any R Lalique vases that weigh in at one pound per centimeter? This vase doesn't really seem to fit nicely into the Archers, Perruches, Serpent, Alicante style, that's for sure, but other late vases also don't fit very well either. Of course this one seems particularly ill fitting! What else? It's heavy like crystal and seems a lot more Mark than Rene in overall style and design.
Hmmmm. All things considered, when the fog of history, the fog of war, and possibly the fog of adult beverages prevent total illumination, it's best to go back to basic precepts, one of which is: With R Lalique, the signature cannot authenticate the piece! This is true even when the signature is "authentic"! So unless documentation appears in the future showing otherwise, what we have is a post war Cristal Lalique Vase made after the death of Rene Lalique, with an R.Lalique signature applied at the factory.
And for those of you who were wondering this whole time what the name Agadir means, it's the name of a good sized Atlantic port city in Morocco. The city was made famous in 1911 by the Agadir Crises, in which France, Germany, and England all played a part, and which lead to France establishing a protectorate over Morocco.
Now, the most important question: Who among you has a glass shelf that can hold this monster vase?
All Articles on These Topics: Lalique Crystal - Cristal Lalique Company, R Lalique - Rene Lalique Authentication, R Lalique and Rene Lalique on Ebay, R Lalique Vases and Rene Lalique Vases