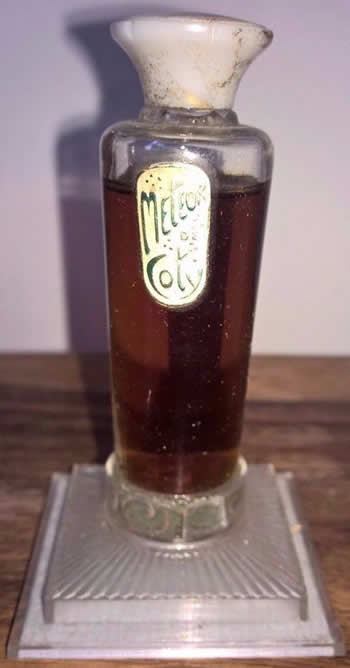 In 1949, Coty (no Francois, he was dead in 1934) introduced the fragrance Meteor. It was presented in a bottle made in its own glassworks, the Coty Glassworks. All the bottles we've seen, some with glass disk shaped stoppers, others with some kind of plastic or Bakelite caps or stoppers, are all signed Coty France. That makes sense; they were made by Coty in France. Duh.
Nowhere is there any R. Lalique signature on any of items in the perfume's presentation for the obvious reasons, including the absence of Rene Lalique in 1949 owing to his death 4 years earlier.
This all brings us to the reason for this article. A regular seller of R. Lalique on Ebay, screen name georgina8648, with an Ebay store named "Lalique Originals", has for sale as we speak, a 1949 (or later) Meteor Perfume Bottle at the following link advertised thusly (the whole reason for this article was not to work in the word "thusly"):
UPDATE 1 of 2 – August 9, 2017: The seller has changed the listing. See a link to the original listing at the end of this article. END OF UPDATE 1 of 2
That ridiculous claim of R. Laliqueism (yea, we just made that word up, and we might have made up thusly also, someone should check) is further buttressed in the item description with the following nonsense:
"The box is tatty** but reasonably intact for its 100 years."
Maybe if the marbled plasticky (and there we go again) cap was pink, these claims would gain some credence in certain highfalutin*** circles. But the cap is not pink, so there will be no moral support from any fellow dealers, pinkos, or other really smart people.
But maybe there should be, because when you look at the photos of the bottle in the plastic base with the wonderful cap, and that great Coty France molded signature on the underside, the whole thing just screams R. Lalique, doesn't it?
Back to planet earth, so why is there even a thin thread for a seller to try to stand on with this R. Lalique claim?
Well, for starters, in their groundbreaking 1990 book Lalique Perfume Bottles, the Utts say on Page 100 that there is a drawing by Rene Lalique of a similar bottle design for Coty for Meteor from 1914 showing a label that says "Meteor Harrods London". No bottle has ever appeared with this label of course that we know of and we know of no evidence that any Meteor bottle was made in 1914. Not having seen this drawing ourselves, do you think it has a plastic cap and base? And for the 2nd hook, there appears in the 2014 Catalogue Raisonne a picture of a similar bottle to this 1949 Coty bottle, without a stopper and sans the plastic cap of course, and having a different neck, but with a Meteor Label. The Cat Res dates its bottle to 1911. Either way, and assuming the best case, in 1911 or 1914 Meteor was just a twinkle in the eye of Rene Lalique and the anti-semitic wind-bag Francois Coty.****
This best case would mean the 1949 Coty bottle is a somewhat close copy by Coty of an original R. Lalique design. And that is assuming there were prototypes or bottles made back in 1914 or 1911 or whenever for a fragrance that was not marketed until after 2 wars later when both Coty and Lalique were dead! Of course, the Cat Res says the 1911 bottle was not signed. Hmmmmm, this bottle is signed …. for Coty! How weird is that?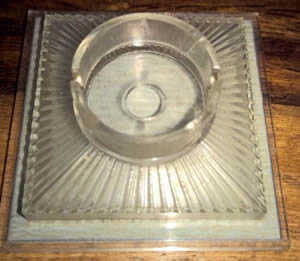 Now we've never had an unsigned prototype bottle in-hand, or seen one in the flesh. But of course we've never seen the Grateful Dead and we're pretty sure they exist. So anything is possible. But again, so what? None of these side-show highlights can make the 1949 Coty bottle an R. Lalique bottle.
Anyway, one of our great volunteers wrote the seller with the salient facts, delivered with no rancor. Yet after a respectful waiting period the seller's claims remain, and we figured it's time to get on the record. But the really good news for anyone out there that thinks for a few hundred dollars you are going to get a legit R. Lalique bottle full of 100 year old perfume topped by the coolest marbled cap, is that Meteor bottles appear regularly costing only hundreds of dollars, with boxes that are not ratty/tatty, and properly advertised for what they are: Coty Bottles. But here we have an R. Lalique dealer adding a few decades and taking a few liberties. Who else would work that up? Of course this is not exactly an epiphanetic (the last made-up of word of this article) moment! Sadly, it's more along the lines of Captain Renault's exclamation to Rick (Humphrey Bogart) in the movie Casablanca: "I'm shocked, shocked to find that gambling is going on in here!". You can click the preceding link and see the 20 second sound byte / video for yourself!
** In our deprived upbringing, and with the world having been a much bigger stranger place, and with only having our Midwest educations to rely on in those younger days (where made-up words and run-on sentences were standard), we called (and still call) worn-out or beat-up things ratty, not tatty. And what is weirdly coincidental about all that is when we typed ratty into a dictionary online (just wanting to be sure we weren't using another made-up word), 2 of the definitions that came up were of course "shabby, untidy or in bad condition" and "resembling or characteristic of a rat: his ratty eyes glittered". What a crazy close thought to all this. Seriously, are we the only ones here who smell a rat?*****
*** Highfalutin is a real word! It's stuff like pretentious, affected, bombastic, and pompous.
**** Coty bought the newspaper Le Figaro in 1922 and turned it into a virulent anti-semitic rag sheet. Then in 1928 he started the newspaper L'Ami du peuple (The Friend of the People), a low priced scandal sheet in which for one very small example he railed against Jewish Bankers calling their behavior inhuman and rapacious. Coty was actually found guilty in court in 1933 for libeling Jewish war veterans groups in France.
***** "I smell a rat", is basically the same as the phrase "something about this smells fishy". It means you think something is wrong.
UPDATE 2 of 2 – August 9, 2017: The seller has changed the listing to remove the claim of R. Lalique from the title and also the claim of 100 years old. Here is a link to a picture of the original listing.
You may have to use the zoom function of your browser (or whatever program opens images for you) to get the cached image to expand in the window if it does not appear full size. After clicking on the link to the item, a new window will open with the cached image in it. On a Mac, just click on the image and see if that expands it. If not, press the apple key and click on the cached image in your browser window. On a PC, hold down the alt key while clicking on the cached image. END OF UPDATE 2 of 2