Unbelievable really, when you consider the odds. In our lifetimes the mythical pink glass R. Lalique Acanthes Vase has appeared for sale. Mind boggling the long shot chance of this happening, and right under our noses at one of the world's major auction houses.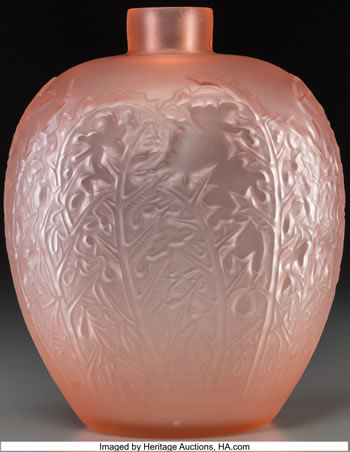 The vase went unsold as Lot 61288 at Heritage Auctions in their June 10-12, 2017 Fine & Decorative Arts sale in Dallas. Against a seemingly giveaway estimate of only $800 – $1200 for this rarity, it failed to ignite the crazy bidding war one might expect of such a rare colored vase. Perhaps the fact that we didn't list it in the Worldwide Auctions Section here at RLalique.com caused it to be passed over, we don't know, it's just such a mystery.
But God knows Heritage certainly wasn't hiding it. Here is the title of the lot listing:
An Unfinished R. Lalique Acanthes Frosted Pink Glass Vase, circa 1921
11-1/4 inches high (28.6 cm)
M p. 417, No. 902.
For whatever reason it slipped thru everyone's fingers.
But just when you thought an incredible opportunity has fallen away, do not despair. The Lalique Gods have smiled on all you Pinkos* and given you a 2nd chance to fill in that gaping hole in your otherwise complete collection of the pink vases of Rene Lalique.
Yes friends the pink wonder is back as a post-auction offering at the following link:
For only $500 all-in (and apparently you can even make a lower offer), you can hitch a ride on the pink frenzy and take your collection to new heights!
And for any doubters out there, like one of our great volunteers that contacted the auction house directly to question if it's too good to be true, here is the reply by a representative of Heritage Auctions:
"Thanks for your input on this and I am already aware. My experience with Lalique suggests this is as catalogued, despite being not of Lalique standard, unsigned and atypical in many ways. I would be happy to hear conclusive findings that is was not made by Lalique, for educational purposes.
Respectfully,
VP
Heritage Auctions"
Note: We intentionally omitted the name of the VP of Heritage.
So, what we have from the VP are things seemingly turned on their heads**.
We recall the opening line in the famous poem by the great Elizabeth Barrett-Browning:
"How do I love thee? Let me count the ways."
1. A vase that is not of Lalique standard.
2. A vase that is unsigned.
3,4,5,6 ……. A vase that is atypical in MANY ways.
Note: Numbering, caps and emphasis added by us.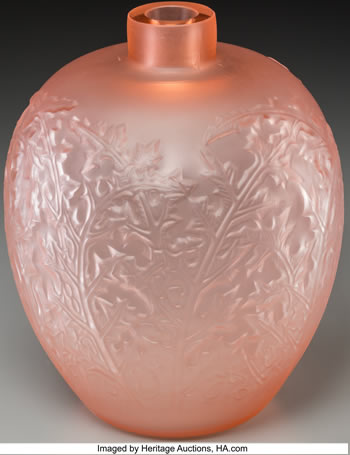 We cannot know the extent of the MANY ways the VP had in mind. We would take a stab at the color, the apparent poor quality of the decoration, the all-over frosting, and the neck. But in-hand who knows what other loving thoughts might be added to the list.
All this brings us of course to our continuing caution to typical collectors (as opposed to extremely knowledgeable and sophisticated collectors), that we strongly recommend you avoid unsigned and undocumented items. Here the piece is unsigned and it does not match the documentation. And there are other "atypical" characteristics as well. What is the point in hoping you found the (not) hidden treasure? And do you (or your heirs) really want to have to re-tell whatever the story is on the unsigned etc. item when it comes time to sell? There is a ton of great R. Lalique out there, the overwhelming majority is both signed and documented.
And of course, here we see the judgment of the market. This R. Lalique Unfinished blah blah blah could not be sold at under $1000 at a major auction house, and now sits at $500 hoping for a sale. Note that according to the Heritage website you only have until June 26th to avail yourself of the opportunity.
You might also check the Acanthes Vase on the Copies and Close Calls Page here at RLalique.com. What you'll find is that if you can't resist the pink vase, there are many more similar opportunities out there with a variety of "atypical" characteristics including some other great rarely seen colors that you can add to your collection!
And we would be remiss if we failed to mention that there was another item advertised as R. Lalique in the same sale as this vase; an item that did sell at the auction. We will simply link to the item for your information.
To summarize, we think you can stay in the pink*** by letting the really smart people**** fight over this vase.
* Pinkos (also Pinkoes) is primarily an American word usually used to derogatorily describe in politics left-wing thinkers and communists. But while a person might conclude that an admirer of this vase is not thinking right (hence they could be thinking left), we really only used the word because it kind of rolls off the tongue flowing with the theme of this article, and not to make any kind of political statement. 🙂
** "Turn on its head" is an expression about causing a radical or opposite change in something from how it used to be, or claiming the opposite of what is. The history teacher told the student "Your version of things has turned history on its head!". Basically, if it's on its head, it's upside down.
*** Before 1600, in Shakespeare's Romeo & Juliet, we hear Mercutio say to Romeo: "Nay, I am the very pinck of curtesie". In that time it was an expression used to denote the best or the pinnacle of something. The meaning is thought to have evolved from the rarity and crazy popularity of pink flowers. The phrase and meaning has continued evolving since that time to primarily refer to one's feeling good or being in good health, and "in the pink" is a phrase still used today. Consider this from Inimitable Jeeves, P.G. Wodehouse in 1923: "'I am in excellent health, I thank you. And you?' 'In the pink. Just been over to America.'"
**** With a hat tip to Orwell and Keating, we build on their expressions by opining: "Some ideas are so wrongheaded and ridiculous that only really smart people can believe them".