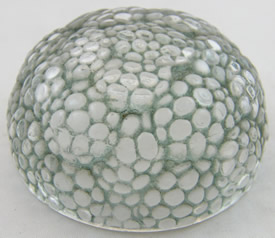 Rene Lalique Glass Cover to the R Lalique inkwell Cernay (Catalogue Raisonne Number 437) has appeared at auction advertised as a Small Lalique Glass Bowl! Hmmmmmm. A better caption to this photo would be: "How Do You Make The Bottom Of An Inkwell Disappear?" Now that's a question the Oracle himself might ask! Inquiring minds might ask: How does the seller even know it's Lalique glass?
The starting price is $0.99 (that's ninety nine cents) and no reserve! Maybe the seller really is mrmeshugener! Seriously, this is the seller's Ebay ID, we can't make this stuff up!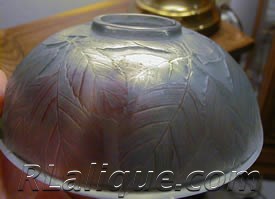 Here is a ink to a cached version of the Ebay Item: 320378153310***.
Several of the Rene Lalique Inkwells have plain covers that weren't decorated. But the Cernay is one model where Lalique used the cover as an integral part of the design of the piece. So unlike some other R Lalique inkwell covers, this cover is not interchangeable with any other model inkwell.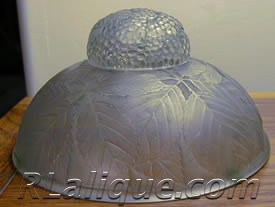 On the other hand, if you have the topless Lalique Inkwell Cernay shown above, and you match up the Cernay Cover from MrMeshugener, you will be in Cernay Heaven (hence the expression "A Match Made In Heaven"), as shown here!
Good luck, and if you get it all done, we'll see you there, hopefully later rather than sooner.
***You may have to use the zoom function of your browser (or whatever program opens images for you) to get the cached image to expand in the window if it does not appear full size. After clicking on the link to the item, a new window will open with the cached image in it. On a Mac, just click on the image and see if that expands it. If not, press the apple key and click on the cached image in your browser window. On a PC, hold down the alt key while clicking on the cached image.