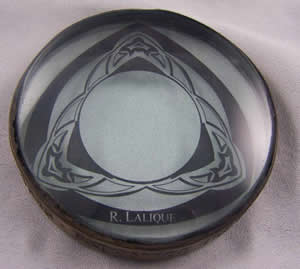 Who would have thought that several different bidders, including one rumored to be a regular buyer and seller of R Lalique items, would compete to run Ebay Item 110319076762 up to $713.47, PLUS the cost to ship from Paraguay? Talk about being "thrown for a loupe"! Seriously, we apparently have to do a better job of getting out the word that there is a place to go for information that may be helpful to purchasers of RLalique! This item was the subject of some comment in the Suspicious Online Auction Thread, and it was (and is) also listed in the RLalique Police Section. Tragic.

And here it is straight from the dictionary:
throw or knock for a loop: to astonish or upset: Her quitting the project really threw me for a loop.