It's been a while since we have been motivated to write about an Ebay seller of the works of Rene Lalique. The last time was to bring the practices of the Ebay screen name Dounial, aka Naim Bouchareb, dba Renaissance Antiques of Iowa to your attention.
But we write today to discuss three offerings on Ebay from pinkcupcakes-uk (we shorten that up to "Pinky" for brevity), a Norwich UK regular dealer in R.Lalique items.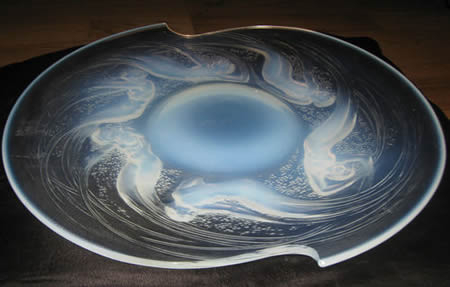 While you are looking at Pinky's offerings, keep something in mind. It's not just what an ad says that can cause a buyer to be misled. It's also what it doesn't say. The seller in this case is a regular dealer in R. Lalique. When you look at the first ad at the link below, think about not just what the ad does tell you, but what this Lalique Dealer doesn't tell you.
And our usual reminder that the motivation of the seller is irrelevant to your decision about buying from or dealing with a particular seller. A seller may not be intentionally misleading or purposefully putting out false information, they might believe their own false claims. But purposeful or not, the end result of relying on false claims is the same for the buyer. So it's not really worth spending a ton of time pondering the question of malice or ignorance. The damage to a buyer can be just as great from dealing with an ignorant dealer as a dishonest one. We've railed* before that if you are going to buy from a regular seller of R. Lalique, how important it is to deal with a competent and honest dealer. So we deem it best to just be as knowledgeable as possible and to avoid dealers that fall into either category.
With all that said, here is the title of the first offering:
rene lalique opalescent glass ondines plate c 1921 marcilhac 3003.
This representation from this regular seller of R. Lalique items appears in the ad:
"very unusual shape of plate no chips /cracks/or hairlines"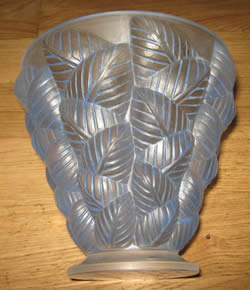 A representation that word by word could be claimed to be true. We can see you at the used car dealer now, when the salesman tells you the car you are looking at has no dents, no scratches, and no paint chips of any kind! The only problem is that the front bumper, both front fenders, and the hood are missing. But not a scratch, not a dent, and no paint chips anywhere. Hmmmmmmmm.
The second listing is titled:
rene lalique vase "moissac" thickly adjoining pointed leaves c 1927 model no 992.
Funny how these footed Moissac Vases with R. Lalique signatures always seem to come thru a dealer. Note in the photo below that in this example the R. does not appear to line up with or match LALIQUE.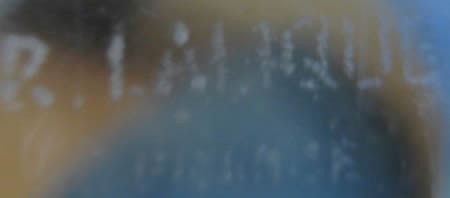 We don't know of any evidence that these footed Moissac Vases were made before the war. That is why footed Moissacs do not appear in the Rene Lalique Catalogue here at R.Lalique.com. We also note that they do not appear in the 2011 R.Lalique Catalogue Raisonne by Monsieur Marcilhac. We of course would welcome any factual evidence from anyone to back up the claim that these Moissac Vases with the wide base are authentic pre-war R. Lalique items.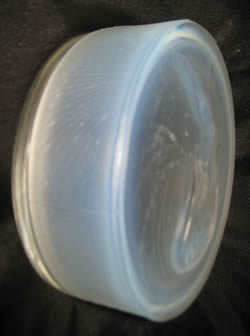 The third and final listing we want to bring to your attention has met the difficult task of hitting a trifecta** of issues in just one listing. A trifecta within a trifecta when considering the entire situation really.
Item 251231416506 stunning rene lalique d orsay powder box of mythological maidens c1920!
1. The glass bottom to the box is not original to the piece. Hard to have a box without the bottom. Not a lot of picture is given to that glass bottom in the photos. "pristine condition" is the claim at the top of the ad from this regular seller of R. Lalique items.
2. The box appears to be cut down. The molded signatures are not shown on the lower portion of the top piece where you would expect to find them. "pristine condition" is the claim of this regular seller of R. Lalique items.
3. This is almost laughable. Pinky shows you two pictures of a signature in the ad. But they aren't from the box, we think they're likely from a Gui Vase. Now that's a mark of authenticity and reliability when a seller shows you photos of the signature, even when it's not on the piece in the ad, right?
So to review, we have a mutilated plate with no cracks, chips, or hairlines, a highly questionable vase, and likely just part of the top of a box, mated with a bottom not original to the top, and a signature from some other item showing in the ad. Oh yea about the box… "pristine condition".
All for sale at the same time by the same lalique dealer. Do you think this dealer may have had his share of complaints? Check out the comments about Pinky from some satisfied customers:
I purchased it as a relisted item …ignored emails and then said "dog ate it"
Seller response to my query was abusive
BEWARE OF SELLER!!!!!!!!
Item had big chip not described at all in description. I wouldn't buy from again
BEWARE .THIS SELLER DOES NOT TELL THE TRUTH. USE YOUR BUYER BEWARE WISELY!!!!!!!
Item had faults not described at all in description. I wouldn't buy from again.
Worst transaction I've had, never again!!
Item damaged. Was returned. They relisted as PRISTINE !!!!!!!!!
Seems like more than your run-of-the-mill*** issues for a seller with a 123 feedback rating.
If more R.Lalique listings with questionable and/or outright false claims continue to appear from Pinky, we'll update this article with the new material from time to time.
* Railed is used as the past tense of the verb "rail" – to strongly espouse a position. An example would be "The speaker railed against corruption in politics." Typically you would "rail" against something. Here, we "rail" for something.
** A Trifecta in horse racing is correctly picking the top three finishers in order in a race. But like so many other sporting expressions, it is now used more off-handedly to include any triple accomplishment, be it good or bad. Consider a lousy restaurant trifecta – bad service, horrible food, and high prices.
*** Run-Of-The-Mill is an American expression from the late 1800's ramp-up into the industrial age, where ordinary production of items from a mill, nothing special, were referred to as run-of-the-mill. It's now used in a variety of run of the ____ phrases to mean ordinary, common, or usual.