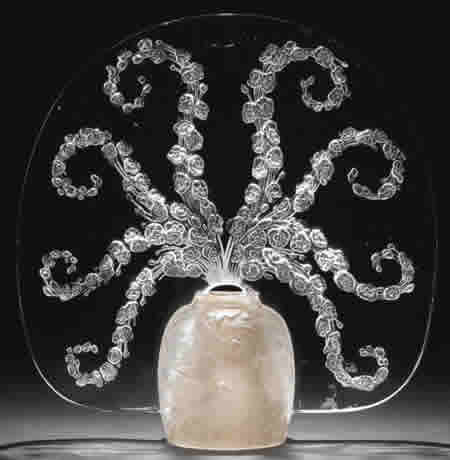 Rene Lalique's star once again shined brightly in New York, this time at Sotheby's 20th Century Design Sale on March 10th. Sotheby's offered up 15 great lots including a rare collection of five seldom seen Veilleuses, as well a few hanging light fixtures, a couple of nice vase lots, two attractive plates, one cachet, and two lots of architectural panels.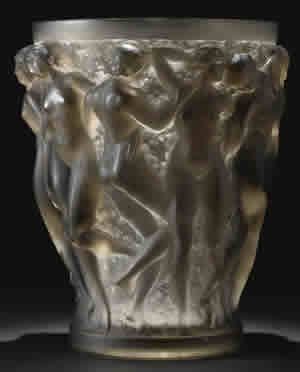 There were three hanging light fixtures: the half bowl shaped Charmes with four matching glass plaques incorporated into the hanging cords, the rare Madrid Chandelier, and the large Fougeres Chandelier. The Madrid (pictured below) was the high seller for Lalique with an all-in price of $46,875 (all prices in this article include buyers premium), the Fougeres made $31,250, and the Charmes made a very strong $16,250.
For the vases, Sotheby's presented a gray glass Bacchantes which tied for second high seller for Lalique at $34,375, and a rare Deux Anneaux Lezards Vase, an elegant and tall clear vase with hanging lizard decorated side rings, which made $31,250.
The plates were composed of the attractive though frequently seen Calypso, a nearly 15 inch wide plate which made $3,750 as the second lowest selling Lalique item, and the enameled rare Souris plate of nearly identical size which brought $18,750.
Both architectural panel lots were of the "Fleurs" design; each included more than one panel, with both lots presented in modern frames. One of these lots reached $21,250, while the other hit $32,500 claiming the fourth highest selling slot for Lalique.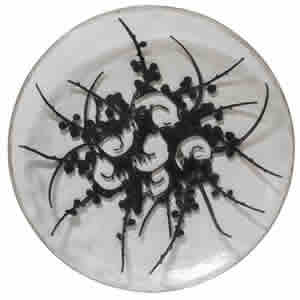 Low Lalique seller was the iconic 1910 Gros Bourdon (Large Bumblebee) Seal that sold for $2500.
A Veilleuse is a night-light, basically a small table lamp. Of the five Rene Lalique Veilleuses, the rare and highly attractive Pissenlit Veilleuse sold for $34,375 making it the other second highest Lalique seller of the day, while Hirondelles, Veronique, and Branches De Prunus Veilleuses made $25,000, $23,750 and $22,500 respectively.
The 15th lot and the fifth Veilleuse, was the Veilleuse Brule-Parfum (perfume burner) Pommier, which sold for $21,250.
The works of the great Rene Lalique totaled $365,625 for an average of over $24,000 per lot. Note that you can see all of these items and thousands more by going to the Past Lalique Auctions main page at RLalique.com. There you can research great Lalique works in the RLalique.com past auctions database by category, such as all the Lalique Lighting or all the Lalique Plates in our database.
In spite of the fact that many of the wonderful items in this Sotheby's sale are not widely collected (likely owing to the fact that some are so rare there just aren't many examples to go around), the sale results showed strength across the board and represented yet another highly successful auction in a continuing trend of great auction results for R. Lalique. The take-up rate for R. Lalique (sold lots as a percentage of offered lots) in this sale? 100%. Oh yeah!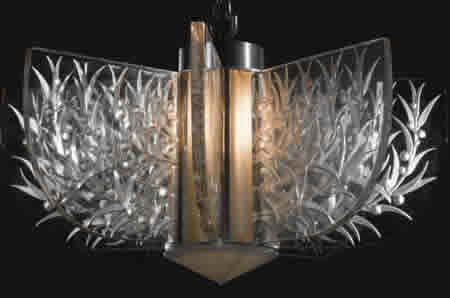 All Articles on These Topics: R Lalique Rene Lalique Auctions News and Results, R Lalique Vases and Rene Lalique Vases, Rene Lalique Lighting: R Lalique Lighting Fixtures, Rene Lalique Plates and R Lalique Plates