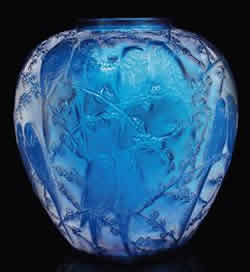 R Lalique Glass has set several world record prices at auction in 2010, as strong auction sales become the norm for the works of Rene Lalique around the world. With some great sales still to come before year end, we thought we'd bring four of these auction prices to the forefront for a variety of reasons, including that as a group, these pieces sit squarely in the mainstay of R Lalique collecting.
In May in London at Christies South Kensington's traditional semi-annual sale of R Lalique, three Perruches Vases by the great Lalique, sold for top dollar (well, top pound :). A green Perruches made £30,000 all-in, and a Blue Perruches made £32,500 as did an Amber Perruches as well.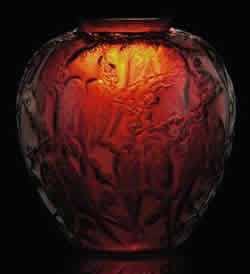 With some research, we were unable to find these three colored Perruches Vases ever making these prices previously at auction!
These sales prices were a bit of a jump from current trends, but they were not unexpected considering the increasing demand for quality colored vases and the short supply, as well as generally strong auction pricing throughout the last several years across nearly the entire spectrum for R Lalique works.
Then at Bonham's usual sale of Automobilia at Quail Lodge, held this year over two days on August 12th and 13th, where they offered roughly a dozen R Lalique Car Mascots, another world record price was set!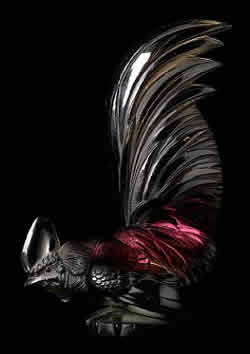 The high selling Lalique mascot, beating out Victoire (at $14,640 all-in), two different Vitesse (at $10,980 and $8,540 all-in), as well as a Cinq Cheveaux ($9,272), La Grenouille ($9,150), and a good selection of lesser priced mascots, was Lot 507, a dark topaz with red center Coq Nain Car Mascot. The R Lalique Coq Nain made $20,740 all-in! We are unable to find any example of this model and color that has even come close to this price at auction.
Again, not some esoteric one-off piece, but another mainstay R Lalique collectible, a colored version of a somewhat common Lalique Car Mascot. For more information on Lalique Mascots, check-out the R Lalique Car Mascots Section of the Rene Lalique Biography at RLalique.com, where you'll find links to all the information on the website about the car mascots of Rene Lalique.
Quietly, but consistently, R Lalique has been making firm prices across the board. And in the prime and most popular areas of the collecting field, price are pushing into record territory in many instances.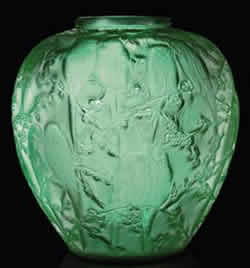 With over 60 R Lalique Auctions listed in our Worldwide Auction Section as we write this, a record of our own for auction listings in mid-October, over 1000 R Lalique Auctions listed so far this year, and likely at least a couple hundred more to come before we close out 2010, it's shaping up to be the strongest year yet in a string of strong R Lalique Sales years that were in place before the economic crisis of the past couple of years, that continued unabated during the downturn, and that appear to be getting even stronger as the world slowly tries to put its economic house in order. And no, we are not proud that we have strung together over 100 words in one run-on sentence.
And if you run across a great R Lalique auction price as you pursue your R Lalique interests, please email and tell us about it. We'll include great auction prices in our auction wrap-ups that we publish from time to time.
All Articles on These Topics: R Lalique Rene Lalique Auctions News and Results, R Lalique Vases and Rene Lalique Vases, Rene Lalique Car Mascots and R Lalique Car Mascots