Rene Lalique Auction Results have continued to show strength across the board in recent weeks, and we thought we'd point out several of the notable Lalique sales both online and at auction houses.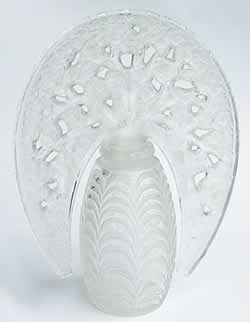 First, there have been a raft* of quality offerings on Ebay as of late, with good examples of both rare and more common Lalique glass pieces selling quite well.
A Connecticut seller had a small trove of fresh to the market pieces rumored to be the property of a rather famous New York socialite. Two notable examples of the results were:
Item No. 330424969295, the rare Lalique Perfume Bottle Bouchon Fleurs De Pommier. The winning bidder for this bottle on April 22nd was an overseas dealer at a final price of $8000!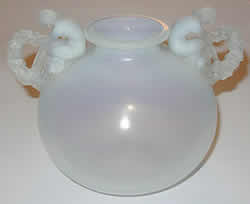 Also of note, the opalescent Lalique Vase Bouchardon in apparently excellent condition. It sold on April 24th for a strong $7601, also selling to a dealer. There were six different bidders above $4300 on this good-looking vase. Here is a link to a saved/cached image version of the original 330425577983 Bouchardon listing online. See cache instructions below. If the cache copy does not open fully, usually you just have to click on the small copy in your browser window and it will expand.
It's good to see dealers jumping into the auction fray at these levels, as they presumably are buying to re-sell at a profit, which further confirms the strong prices made by these great R Lalique items.
On April 14th, a clear Tete De Paon Peacock Head Lalique Car Mascot sold for $5988 after spirited bidding. Here is a link to a saved/cached image version of the original 400114083624 listing online. You may have to use the zoom function of your browser (or whatever program opens images for you) to get the cached image to expand in the window if it does not appear full size. After clicking on the link to the item, a new window will open with the cached image in it. On a Mac, just click on the image and see if that expands it. If not, press the apple key and click on the cached image in your browser window. On a PC, hold down the alt key while clicking on the cached image..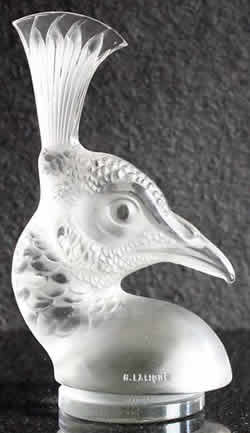 On April 27th, a very solid looking Rene Lalique Ceylon Vase in opalescent glass and selling as Item No. 360255568526, it went for a solid $6300, having been pushed the last $2200 of the way by two apparently eager suitors.
Finally for Ebay, two different Lalique Paquerettes Perfume Bottles appeared in April, both from the UK. The first one, Item No. 270565826158 linked just above, was sold on April 26th for £1550, and the second, Item No. 150436432905 sold for £2561.11 on April 29th, the day this article was published!
April 9th in Paris at Coutau-Begarie saw the rare appearance of an original Rene Lalique handbag / purse as Lot 111. This great Lalique Purse featured an incorporated hunting scene and black leather. It sold for €42,000!
On April 29th, Woolley & Wallis got £47,800 all-in for a nice looking piece of Lalique Jewelry, the central element to a Lalique Dog Collar! This continues a string of great results for Lalique jewelry items at the Salisbury England auction house.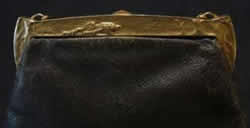 Firm results were the rule of day throughout the month, with the £2300 (not including premium) paid for a Rene Lalique Beliers Opalescent Vase at TW Gaze on April 23rd in Norfolk U.K. being a good example of the solid pricing prevalent throughout all the various collecting categories of RLalique.
You can research past sales of RLalique in the new Rene Lalique Auctions Past section of RLalique.com. And you can navigate to all the auction resources at RLalique.com from the Lalique Auctions section of the website's Rene Lalique Biography.
* raft – according to Webster a "raft" is a large collection or number
Updated: June 26, 2010 to change Ebay link to cached copy
All Articles on These Topics: R Lalique Rene Lalique Auctions News and Results, R Lalique Vases and Rene Lalique Vases, Rene Lalique Car Mascots and R Lalique Car Mascots, Rene Lalique Perfume Bottles - R Lalique Perfumes