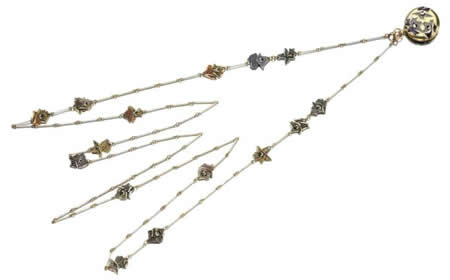 Rene Lalique Jewelry at Auction continues it's string of strong sales performances with a couple of nice Rene Lalique jewelry items at Sothebys Geneva putting in another strong showing for Lalique auction sales.
Sothebys had two Lalique jewellery "gems" in their November 17th sale of Magnificent Jewels. Frenzied bidding from an overflow crowd and busy phone lines were the rule of day for this sale of great jewellery, and the works of Rene Lalique were no exception!
The first Lalique offering, selling as Lot 368, was the Lalique pansy motif Sautior, consisting of 15 pansy decorations, separated by white enamel and yellow gold baton links. This elegant Lalique Sautior held a detachable pocket watch decorated on the bezel with foliate plique à jour, and on the back with pansy flowers. The Sautior is pictured in the 1987 exhibition book The Jewellery of Rene Lalique**. Against a rather wide but spot-on estimate of CHF 100,000 to 150,000, this great Rene Lalique jewellery object made an all-in price of CHF 152,500, or about $151,000 U.S. Dollars.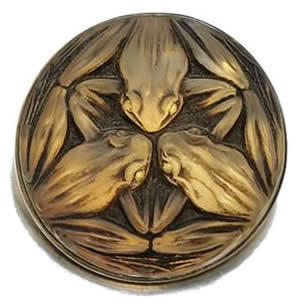 Equally cool, though not as unique or as valuable, the circa 1911 production brooch Grenouilles appeared as Lot 369. This is a typical glass brooch from the time of larger production of Lalique's glass decorative and useful items. Its Catalogue Raisonne number is 1357. The brooch was estimated at CHF 6,000 to 9,000, and made an all-in price of CHF 10,000, or nearly the same in U.S. Dollars. A great result for a production brooch, and anyway you look at it, a strong and high auction price for a strikingly designed object.
You can learn more about Rene Lalique and his rise to become the most celebrated jeweler of his day, at our Rene Lalique biography page, or by going to the Rene Lalique Jewelry tag here in the Blog, where you will find all the informative and well illustrated articles we have written which relate to the great Lalique's jewelry creations.
** You can also find the rare and fascinating 1987 exhibition book The Jewellery of Rene Lalique in the Rene Lalique Exhibition Books and Catalogues Section of the Rene Lalique Library here at RLalique.com. The catalogue is in English, is near 200 pages, and has approximately 235 great photos of Rene Lalique Jewelry and of Lalique's Drawings. A great resource for both wonderful photos and detailed information about Rene Lalique and his jewellery.
All Articles on These Topics: R Lalique Rene Lalique Auctions News and Results, Rene Lalique Jewelry and R Lalique Jewelry