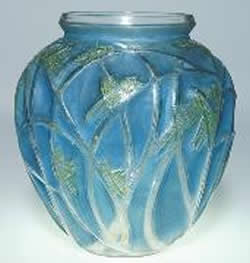 R Lalique at Auctions around the world has produced quite a few good results the last couple weeks, and with the end of the Spring auction season in sight, we thought we'd take a moment to summarize some of the more interesting Rene Lalique Vase results that were achieved by auctions listed in our Rene Lalique Worldwide Auctions Section.
At Cincinnati Art Gallery in Cincinnati Ohio (you always wonder how they come up with the names for these Auction Houses) on June 7th, a nice looking frosted R Lalique Sauterelles Vase described as being in excellent condition with "intensified" blue staining, sold for $8,750 all in, against an estimate of $5000 – $7000. A solid price for an always popular vase!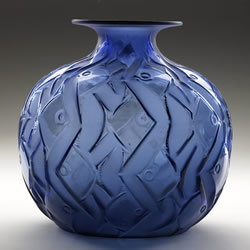 At Rago Arts and Auction Center on June 13th in New Jersey, the high seller was a good looking R Lalique Penthievre Vase in Blue Glass. It made a premium inclusive $27,600 against the wide $14,000 to $19,000 estimate. It was followed up a frosted R Lalique Serpent Vase with Sepia Patina, which made $15,600 with premium. Third high seller was the very rare Rene Lalique Perfume Bottle Oreilles Lezards. The better of two Oreilles Lezards Perfume Bottles sold in this sale, this bottle had small nicks and a stuck stopper. It made $13,200 with the premium. Fourth highest selling Rene Lalique piece was the Lalique Vase Lagamar with black enamal, which made an all-in total of $10,200.
In all Rago got off 14 Rene Lalique lots, totaling $110,160.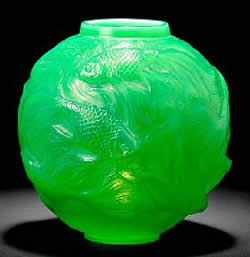 At Bonhams New Bond Street on June 10th, the high seller was a Cased Green Opalescent R Lalique Formose Vase, making a premium inclusive £5,520 British Pounds, or approximately $9,000 U.S., followed by a nice looking R Lalique Ceylon Opalescent Vase making £3,360 all in, or about $5,500. The Bonhams sale was not helped by the London transit strike which was in full swing the day of the auction. Our man in London said the transportation situation was quite chaotic throughout the great City with many people opting not to travel that day.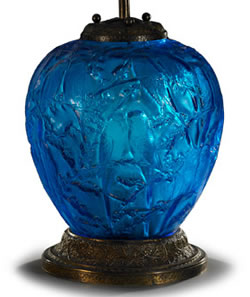 Also on June 10th in Canada at Waddington's, the high seller was a nice looking Rene Lalique Electric Blue Perruches Vase that had been converted to a lamp, which made a premium inclusive $4560 Candadian Dollars, or about $4000 U.S. Obviously a fraction of the regular Blue Perruches Vase price, but a good result for the lamp version!
Finally, at Clars Auction Gallery in Oakland California over the June 6/7 weekend, the high seller for Rene Lalique was a nice looking R Lalique Perruches Vase in Green Glass, but with what was described as a "very minor impact to rim", made a premium inclusive $16,590. The "impact" on the vase may have been judged very minor, but the impact on the price of such an unfortunately placed problem was likely not so very minor.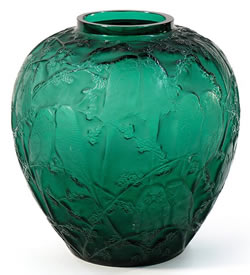 Summer is almost upon us, with R Lalique Auction items starting to thin out around the world toward the end of June. Certainly a great Lalique Auction season is wrapping up, with strong results for top notch pieces sporting clean condition and reasonable estimates, and significant activity at all levels and in all areas of Rene Lalique collecting. Pieces with issues were problematic as buyers got increasingly particular amidst the worldwide economic slowdown. However, another strong point is that the works of Rene Lalique have avoided what has started to occur in many collecting fields; the appearance of large volumes of works being liquidated by collectors hurt by the slowdown. If anything, there has been a significant lack of good quality Lalique merchandise available compared to previous years. This of course has effected sales averages and sale totals, even when strong prices are achieved for the offerings of the day.
We judge the overall results quite solid, made even more so when considering the uncertain times. But one certainty remains. Here at RLalique.com World Headquarters, the pool will be running on overtime as the desert heats up, while R Lalique auction activity around the world cools down!
All Articles on These Topics: R Lalique Rene Lalique Auctions News and Results, R Lalique Vases and Rene Lalique Vases, Rene Lalique Perfume Bottles - R Lalique Perfumes