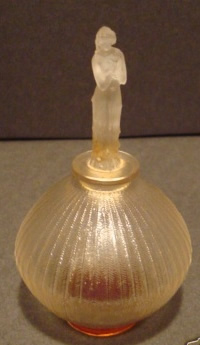 Rene Lalique Perfume Bottle Roses for D'Orsay has appeared online for no reserve and a low starting bid! This great Lalique bottle was also made as a Maison Lalique design with a mainly clear base without the ribbing. Lalique made this wonderful bottle for D'Orsay very early in the big "designer perfume bottle" scheme of things. And yes, Lalique was the original and consummate designer of designer perfume bottles! This fabulous Lalique perfume bottle is circa 1912, and it's molded LALIQUE, nicely on the underside of the base.
Here is a link to a saved/cached image version of the original 170341230481 listing online. You may have to use the zoom function of your browser (or whatever program opens images for you) to get the cached image to expand in the window if it does not appear full size. After clicking on the link to the item, a new window will open with the cached image in it. On a Mac, just click on the image and see if that expands it. If not, press the apple key and click on the cached image in your browser window. On a PC, hold down the alt key while clicking on the cached image.
The seller is a high volume Power Seller with a good feedback rating who states this great Lalique Perfume has no damage, but that the stopper is stuck. Reasonable shipping charges are quoted when you put in your zip code. Might be worth checking out!
We also posted this great looking bottle in our Rene Lalique at Auction Section here on RLalique.com.
September 15th, 2009 Update: Switched Item Link To Cached Image Version
All Articles on These Topics: R Lalique and Rene Lalique on Ebay, R Lalique Rene Lalique Auctions News and Results, Rene Lalique Perfume Bottles - R Lalique Perfumes