Post-Sale Update:
The Reese Collection, comprising the first 54 lots in the sale (that included some modern pieces) had a 100% sale rate. Every single lot was sold. There were an additional 5 R. Lalique lots near the end of the auction, 4 of which sold. The overall sale rate was over 98%.
Against a total estimate range for all offerings of $188,400 to $272,000, the hammer prices came in at $269,000, or just $3000 below the high estimates. All-in with premiums, the 58 sold lots made $336,250 or an average price of about $5800 per lot. The average was brought down by both the modern items and lots with various amounts of damage or missing pieces. 24 lots (over 40% of the lots) sold for a hammer of between $150 and $1400.
High seller was Lot 1, the Firebird Decoration (minor chip to base) that made $31,250 all-in. On the same basis the amber Serpent Vase Lot 3 and the butterscotch Acanthes Vase Lot 15 tied for 2nd place at $23,750. 4th highest seller was the blue Courges Vase Lot 21 at $21,250. Fifth place went to the amber Beetle Vase as Lot 14 at $18,750 closely followed by the rare 6th place Croix Saint Georges Perfume Bottle Lot 396 with an ill-fitting stopper that got $17,500.
The high selling Firebird accounted for about 9% of the sale total. And the auction house reported there were over 2 dozen buyers representing most of the continents worldwide (no penguins of course) for the 58 lots.
What can you say? Another great day for Rago and for Rene Lalique!
End of Post-Sale Update.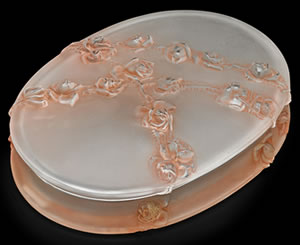 Over 50 lots of great R. Lalique that make of up the Reese Collection will kick-off the Early 20th Century Design Sale at Rago in Lambertville, NJ on Saturday September 22nd. The collection is deep in rare and colored vases including by way of example the amber glass vases Serpent, Penthievre, Sophora, and Gros Scarabees.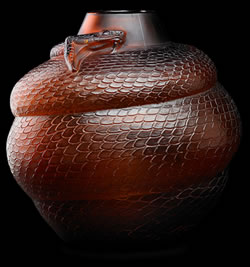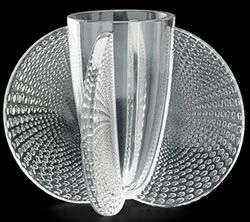 There are also white opalescent examples of Marisa, Poissons, Davos, Domremy, and Malesherbes. In addition there's blue, green, red, butterscotch, and other rarities. Nearly 40 vases in all, as well as a host of other items represent a good cross-section of the collecting field.
Those other items are topped by Lot 1, the 1922 surtout Oiseau de Feu complete with original bronze base.
The surtout carries a conservative $15,000 to $25,000 estimate, just the kind of reasonable estimate that has been the hallmark of R. Lalique sales at Rago.
Exactly one year ago to the day, on September 22, 2017, Rago achieved an amazing 97% sale rate at last year's great R. Lalique sale. That sale rate was achieved by high quality, low estimates, and readily available detailed condition reports.
This current offering follows that exact same recipe of attractive items conservatively offered with full disclosure about condition posted right online with every lot.
You can see all R. Lalique items in the sale on one page HERE!