Just in here at World Headquarters is news of an auction event for which all serious collectors will want to mark their calanders. One of the most well curated* and significant single owner collections to come to market in many years has been slated for sale.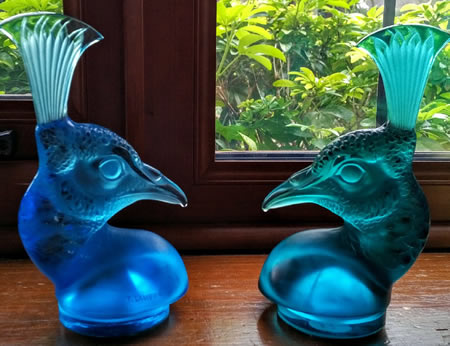 Over 200 R. Lalique lots assembled over more than two decades with a strong emphasis on rarity and condition will cross the block at Bonhams Knightsbridge Saleroom in London on February 20th, 2019. The collection has a heavy emphasis on car mascots (there will be 35 mascots) and early vases, but there are great examples across nearly the entire collecting field including the Frise Monnaie Du Pape Bowl shown here that was last offered for sale nearly 25 years ago at the incredible December 1995 Kagan Sale at Sotheby's in New York. And there is also a great mix of academic and esoteric items as well.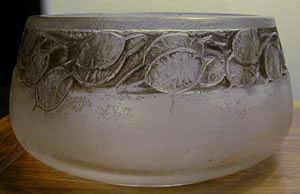 Many of the car mascots in the sale have been on loan to the Musée Lalique in Wingen-sur-Moder, France from the time of the opening of the Musée in 2011 until recently. They can be seen in a photo in an article we wrote at the time of the opening of the Musée as part of their permanent mascot display.
And every car mascot in the sale was exhibited at the Musée as part of the "Lalique and the Art of Travel" Exhibition in 2016.
9 of the Car Mascots in this sale, including a rare opalescent Vitesse, an even rarer opalescent Chrysis, and the two blue glass Tete De Paon Mascots shown above, will be on view by Bonhams as part of their Beaulieu and Goodwood Revival Sales in Chichester, Sussex, UK in conjunction with the show and the sale Bonhams is having there.
Viewing / preview times for the nifty** nine are this coming Friday September 7th from 9:00 to 17:00 local time, and again on sale day Saturday September 8th from 8:30 local time as well.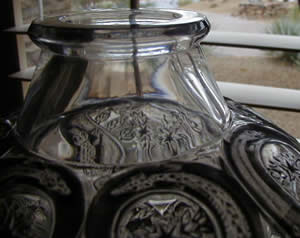 A preview of these incredible rare examples from the collection will only serve to whet*** the appetite of serious collectors in anticipation of the coming February event.
We will update you with more details as the auction approaches.
* Curate – As a noun, curate is a member of the clergy in a lot of churches such as the Anglican Church. Probably you could stretch that to what would likely be the made-up word (in this context) "curated" as being tossed into the clergy, or inculcated in clergyism (definitely a made-up word), or something like that. However, curated here is a verb meaning that the assembling of the collection was superintended in a professional, expert, or high quality manner, such as a museum curator might do.
** Nifty – An informal word for attractive, high quality, or appealing.
*** Whet The Appetite – We often see "wet" in this phrase, but "whet" is a different word that means to hone, sharpen, or stimulate.