It can be a dangerous world out there for online purchasers of R. Lalique. Our experience is that most people are honest, but there are always a few rotten apples to be avoided.
All the way back in in 2014 we wrote an article titled: Pierre Leblache – Hardweejun On Ebay – Buyer Beware. And we updated it a couple of times over the years.
But the hits just keep coming* and we decided it's time to refresh and publicize part of the litany of false statements and false claims that characterize so many of his sales efforts with regard to various "R. Lalique" items. Keep in mind just as bank robbers don't rob every bank they drive by, every single listing by Hardweejun may not contain false representations about the item he's selling. But rest assured there is plenty of material out there.
Basically this guy just makes stuff up and in an apparent attempt to appear erudite tells longwinded stories about history that have so many fantasy or undocumented aspects we don't have the time to catalogue the whole mess. All of this of course is to make a few dollars off some uninformed buyer of an "R. Lalique" item in various online sales listings, many of which are rife** with false representations. And he's doing all this to get a couple of hundred bucks. We don't know what his hourly rate is, but with the time involved in writing up some of this nonsense, doing the photos, and then creating the Ebay listing it seems like a low-return scam. Certainly a lot less than those 30 pieces of silver you've heard tell about.
Let's get right to a couple specific examples:
Rene Lalique 1924: First Blue Bottle for Worth's "Dans La Nuit" 5 1/2″. Signed. Updated 7-4-21 to delete link to Ebay listing that no longer works.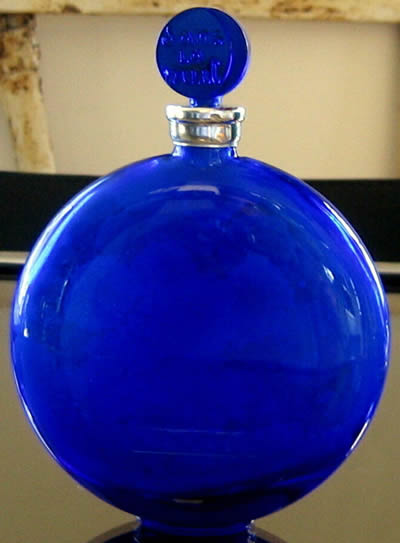 So obviousy what he is selling is post-war (the Utts say 1985) modern copy (with changes you might notice in the picture), of what was originally an R. Lalique design. The bottle is marked R. Lalique CREATION to the underside. We don't even know who Worth had make it for them. Oh, and there is the metal neck collar that even though not red, would normally trigger a red alert.
Keeping the preceding in mind about what he is actually selling, let's review some of his representations:
1. An original from between 1924 and 1930. (Our Note: An original from the around the 1980's and transported back in time by the seller)
2. It is also the first (only?) time that Lalique sculpted into the bottle's face the words "EAU DE TOILETTE" (Our Note: Lalique was long dead before anything was "sculpted" into this bottle)
3. signed R LALIQUE underneath (Our Note: Oops, left out that CREATION word that is so blurry in his photo if you don't know what it says before looking, you likely can't make it out. That blurry picture was a nice touch as if the camera suddenly stopped working properly. In certain circles they call this kind of activity – the specific omission and the blur – "consciousness of guilt"***. R. LALIQUE CREATION is the modern glassmaker giving credit to Rene Lalique as the original designer.)
4. Original/Reproduction: Original (Our Note: no comment required)
5. You can buy it with confidence (Our Note: No need to send in the clowns****, everybody's already laughing)
We know Hardweejun follows and reads the website, because he quotes from it and refers to it in various of his listings. He also says he is an over 20 year collector of R. Lalique.
All of the model pages on the site for the dark blue round flask form R. Lalique Perfume Bottles for Worth state the following:
Also Note: Any bottle with the molded word CREATION on the underside is a post-war copy.
Also Note: Examples with metal coated necks and/or rims will also be post-war copies.
You can see all those models at Rene Lalique's Worth Perfume Bottles.
If anyone thinks any of the numbered statements from the listing accurately reflects what is true about this bottle, please leave a comment here and we will promptly and cheerfully make corrections of any errors. And for this entire article, if anyone thinks we have anything wrong…. cheerful corrections will be made if we screwed something up.
Post Publication Update: The bottle did not sell, but has been re-listed. Two points to make, one old, one new. The old point: Pierre makes the following statement/claim in the old and new listings: This "Dans la Nuit" bottle is repertoried and photographed in the large Marcilhac book, the unofficial; "Lalique Bible" on page 951 of the French 2010 edition under reference "Worth 2″ (photo 8). The signature, R LALIQUE, is under the base (photo 7)." The first sentence is just made-up. There is no Dans La Nuit bottle pictured where he says, that has a silvered neck or the phrase R. LALIQUE CREATION on the underside. That's because Rene Lalique did not design or produce a silver necked "CREATION" bottle or ANY "CREATION" bottle for Worth. So obviously "This" bottle is not repertoried or photographed anywhere in the entire book he cites. The 2nd point is humorous. Apparently you can no longer buy the bottle with confidence. The phrase "You can buy it with confidence" has been removed from the end of the description in the re-listing. End of Update.
And in case you thought maybe the above listing was just a one-off error of some kind totally filled with good intentions, check out this gem:
Rene Lalique 1929: Smallest Bottle (Version 3) for Worth's "Je Reviens" 3″. Updated 7-4-21 to delete link to Ebay listing that no longer works.

False statement: Here is one from around 1929 (Our Note: The stopper did not exist in 1929)
False statement: Original or Reproduction: Original (Our Note: Ditto)
False statement – This combines a false statement with a ridiculous story: Also, and although this was the launching year (Our note – he is referring to 1929), he insisted that Lalique develop a softer material for the stopper as he feared that the rare blue marble envisioned would prove too expensive. This was born the bakelite stopper, one of the World's first plastics 15 years before but sufficiently down in price to be affordable while looking just as good and also achievable in any color, which had not been possible before. (Our Note: Knowing the stopper on this bottle did not exist in 1929, this story is made-up out of whole cloth*****. The Ebay listing says the item location is New York, but it's more likely to ship from Fantasy Island******.)
The fact that Pierre did not show a picture of the signature or mention anywhere in the listing what the signature says, we'd bet our bottom dollar******* it's some version of the post-war modern Lalique France signature. Consciousness of Guilt Rides Again! Post Publication Update: The Je Reviens bottle sold for $60. All this for $60 … less Ebay commissions? Really? End of Update.
Be careful out there!! But remember, it's not what the seller says or doesn't say. It's what you know. The more you know the better off you are and the better off you will be in building your R. Lalique collection.
* Hits just keep on coming: We are using this expression in the sarcastic sense, in the same way it was used by Tom Cruise in the movie A Few Good Men. When he was informed by his co-star whom he seriously disliked and had no control over: "I'm going to Cuba with you tomorrow", he replied "And the hits just keep on coming".
** Rife means an abundance of something usually undesirable or harmful.
*** Consciousness of Guilt is a concept in the U.S. court system where inferences can be drawn from a person's own actions. We are using the phrase here to make the point that he did things that had the effect of hiding or obscuring accurate and relevant information that would have contradicted the false statements in the listings.
**** Send in the clowns: In the 19th and 20th centuries when circuses were a huge entertainment spectacle in many parts of the world, whenever tragedy struck during a performance (like the high wire guy fell off the wire – splat), the management would give the order "Send in the clowns!" to distract the audience and get the laughing going.
***** Made-up out of whole cloth: From https://idioms.thefreedictionary.com/ "To fabricate something entirely fictional or utterly false and not based on reality at all." And from "https://grammarist.com/idiom/out-of-whole-cloth/ "Out of whole cloth describes something that is untrue and has no grounding in the facts." Our Note: You also hear it as "cut from whole cloth".
****** Fantasy Island: The setting for the late 70's/early 80's TV fantasy show starring Ricardo Montalbán and Hervé Villechaize.
******* Bottom dollar is your last dollar.