Fooled By Fakes: Buyer Beware!
Rene Lalique Art Glass by Anita Stratos
Original Publication Date: Friday October 16, 2009 in the The Antiques & Auction News!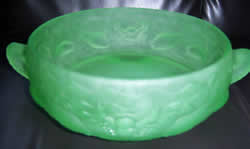 "Don't buy signatures." This is the first and foremost rule in buying RLalique art glass, according to an expert from RLalique.com (rlalique.com, a Website with a wealth of information dedicated to all aspects of Rene Lalique and his works) with 30 years of RLalique collecting to underscore his expertise. As he so colorfully and clearly illustrates, "You can write 'dog' on the side of a cat, but that won't make it bark!" Because forgers can add marks that look virtually identical to authentic RLalique marks - particularly the block stencil mark - buyers need to examine the whole piece and then allow the piece to authenticate the signature, not the other way around.
Rene Lalique (1860-1945) was an incredibly prolific and gifted artist, his talents going far beyond the perfume bottles, vases and other glass objets d'art most often associated with his name today. Originally an award-winning jewelry designer in Paris (side note: fake RLalique jewelry has also started showing up in online auctions), Lalique also studied sculpture and received architectural commissions to design many of the glass components for buildings the world over as well as for several ocean liners, most notably The Normandie. Lalique's factory, which employed as many as 600 people, closed because of World War II, but fortunately all of his molds were saved when the Allies liberated his Wingen factory in Alsace in 1945.
Rene died shortly after his factory was liberated, but his son, Marc, took over and changed the business. Marc preferred to produce crystal items rather than glass (marketed as "Cristal Lalique"), but some of the original designs were still being used. Therefore, it is possible to find the same piece made in both crystal and in glass. Because the original RLalique glass pieces are more valuable than the heavier post-war crystal, forgers sometimes alter the marks on crystal pieces, making them appear to be pre-war RLalique. The RLalique.com Website shows photos of many such crystal pieces that have appeared with altered marks, and they offer a free authentication service through their Website for owners of items thought to be RLalique.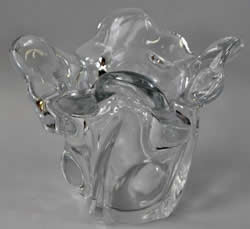 Rene Lalique's works have been very well documented, which is extremely helpful to collectors. Although some of his rare pieces can sell for hundreds of thousands of dollars, there are plenty of beautiful pieces that are more affordable. His work is still in demand by collectors, which gives forgers enough reason to try to pass off fakes and also gives legitimate companies reason to design glassware in styles similar to Lalique's. This can be confusing to new collectors and tempting to forgers who add fake RLalique marks to unmarked modern glassware in Lalique-like styles. In fact, I recently saw an example of the latter in an online auction: a Czech glass RLalique style piece complete with a forged mark was represented as a "rare" Lalique perfume bottle and sold for over $300. Had the piece been authentic, it would certainly have been worth much more.
The companies that create art glass similar to that of RLalique are not trying to deceive buyers with their wares. One such company is Desna Bohemian Glass, which is made in the Czech Republic and has some pieces that are comparable in style to RLalique; because of this, Desna's art glass is among the most frequently forged. Desna's Small Grape Harvest vase, for example, depicts nudes that are reminiscent of Lalique's vases embellished with classical nudes, but collectors familiar with Lalique's style would not be fooled by this vase. Elements of the design itself differ from authentic RLalique, and the base of an RLalique vase of this type would almost never be faceted. However, some forgers will add a fake RLalique mark to such pieces in the hopes of deceiving buyers who are less knowledgeable.
While imitation is considered to be the sincerest form of flattery, it does pose problems for collectors when a company like Consolidated Glass produces a line of glassware that very closely resembles RLalique. One particular model has been deemed good enough to fool some collectors - that is Consolidated Glass's Love Birds vase, which is almost identical to R. Lalique's Perruches vase. According to RLalique.com, the main clue to recognizing the Consolidated Glass version lies in the fact that the lip turns slightly outward. However this can be polished down to look almost identical to the RLalique version, and with the addition of a fake RLalique mark added by unscrupulous sellers, it's easy to see how a buyer can be fooled. An experienced collector would notice the difference in the weight and finish of the Consolidated piece, which is why it's important to become familiar with the tactility of authentic pieces.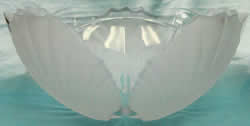 One of the most frequently copied Lalique pieces is the Sauterelles (aka Grasshoppers) vase. Although there can be differences in color, finish, and the rim, some experts think the mold used to make this copy may actually be an old RLalique mold. Because these copies can be almost identical to Lalique's, and because there are so many of them in the marketplace, they can cause difficulties for buyers of this particular model. You can see photos of Sauterelles copies and most other known copied pieces at RLalique.com. On the other hand, a high-quality copy of a Gros Scarabees Beetle Vase has an outstanding difference from the original - a beetle positioned upright at the bottom of the vase, which doesn't exist on authentic RLalique Gros Scarabees Vases. This single feature alone should raise an automatic "Stop" sign to buyers. Check out the RLalique Police page on the RLalique.com Website for lots more suspicious and outright fraudulent pieces being sold online, some with more in-depth explanations.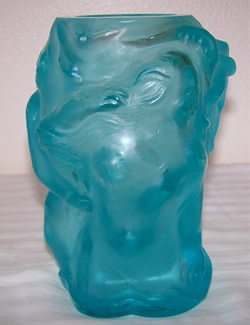 Since RLalique glassware is so well documented, it would be somewhat unusual for an unknown piece to suddenly surface. And this would certainly get the attention of Lalique collectors and command a high price - which is exactly why the discovery of a "new color" of Lalique glass did just that about 30 years ago. I'm talking about radiated RLalique, which turns clear or frosted glass into a rich shade of purple. While some RLalique pieces were made in mauve, this color is easily differentiated from the amethyst tones of radiated glass (you can see examples of these two colors at rlalique.com). According to the RLalique Website, some pretty convincing tales were attached to the discovery of this "new color," and as buyers around the world paid exorbitant prices to add these pieces to their collections, more and more pieces began showing up. But when the truth inevitably came out, lawsuits were filed by those who had invested heavily in this supposed new discovery. Although colored RLalique glass is generally worth more than clear, these radiated pieces immediately depreciated when it was disclosed that the purple color was not original. Among the many known radiated pieces are the Serpent Vase, Suzanne Statue, and Vitesse Mascot.
One final piece of advice - although there's no room to go into the fake RLalique jewelry that has been found online recently by RLalique experts, one rule of thumb still applies in order to avoid dropping hundreds or even thousands of dollars on a fake piece (which happened to one collector a few months ago): don't invest in items from an online seller who doesn't allow returns or who has private feedback. Consult an expert first - they can many times spot a fake online without even examining the piece in person - as well as the book considered to be the bible of RLalique jewelry, Rene Lalique Schmuck und Objects d'art 1890-1910 by Sigrid Barten.
All photos are courtesy RLalique.com. NOTE: Photos shown here are not the ones from the original article. The photos here are of items that are NOT the work of Rene Lalique!
At A Glance: Signs of a Fake or Reproduction:
(Note: Many photos of reproduction pieces and fake marks can be seen at rlalique.com.)
1. Poor mold and/or finish quality.
2. Incorrect style for authentic RLalique.
3. Crystal pieces with RLalique mark.
4. Radiated purple-colored glass.
5. Incorrect feature/s for authentic RLalique.
6. Crude RLalique mark.
Reference books and collecting groups are the best ways to keep from being fooled by fakes. Here are a few: RLalique - The Gathering Place for R. Lalique and Rene Lalique Enthusiasts and Collectors (rlalique.com); Lalique Glass, The Complete Illustrated Catalogue for 1932 by Lalique Co.; Lalique Glass by Nicholas Dawes; A Guide to Fraudulent Lalique by Carol Glaze and Alice Bley.
What topics would you like to see covered here? We'd love to answer your questions and hear about any experiences you've had with fakes, forgeries, and repros. Please send all correspondence to FooledByFakes@gmail.
© 2009 Anita Stratos
This article is 2009 Copyrightby Anita Stratos and is reprinted with her kind and generous permission.